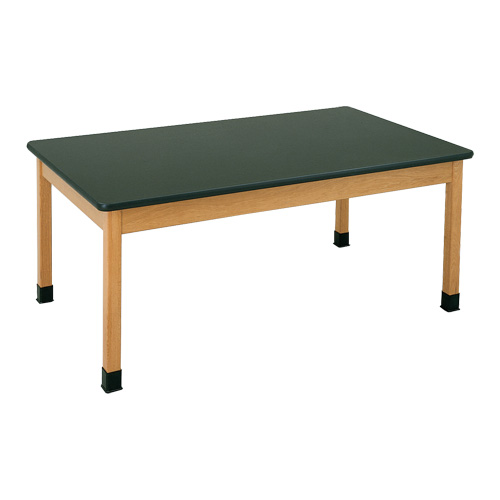 Our product experts at Diversified Woodcrafts Inc., recently shared some great information with us that we just have to share with you! It's all about what you need to know even if you're just thinking of buying a new Science Table. Yeah, there seems to be a real 'science' to it….
'Before You Buy Tables'
Science tables come in a large variety of widths, depths, heights and tops. Deciding which combination is right for your classroom depends a lot on how you plan to use the tables and what age group you are working with. 
Width: Typical widths for tables are 48", 54", 60" and 72" wide. The 48" width is used primarily in elementary classrooms. The students are small enough that the 48" width offers enough room for two students to work side by side at the table. Middle and high school students typically will need the 54" or 60" to allow enough knee space for two students and their larger frames. If the table is to be used in a physics classroom, the instructor will want to use the 72"W as it allows for the use of equipment such as air tracks. 72"W tables are recommended to have leg braces and stretchers.
Depth: 21", 24", 30", 36" and 42" depths are available for tables. The 21" would be used for lecture only in a room where space is minimal. The most popular depth is 24". It allows enough room to work comfortably, yet does not require that much more space. 30" and 36" deep tables work well in elementary classes as a double-faced table. The 36" deep tables can be used as double faced in middle and high schools, but it does restrict the amount of workspace. Typically if you want to have four middle or high school students at a table, it would be wise to choose the 42"deep option with leg braces and stretchers added.
Heights: 30", 34" and 36" are the most common heights of tables. 30"H is considered a sitting height table. It can be used for lecture and labs where the students will be seated. 34"H is the height that is recommended for use with a wheelchair. Most classrooms are required to have a table that will accommodate a student with special needs. Standing height (36"H) tables are used primarily for labs. They will generally be the same height as the fixed cabinetry throughout the balance of the room and can be set against the cabinets to create a large work surface.
To view the chart just click here:   Download ScienceTableChrt.ppt
Once you have identified the options (height, depth, etc) you should look for a table that has features, which will add to the life of the table. For stability look for a table that is made of solid oak, and has a thick gauge steel corner brace that spans the height of the apron. Look for tops to be attached by screwing through the apron directly into the top, so you won't have to worry about the tops becoming loose. Finally protect the wood of the tables from water and chemical spills by choosing a table with a chemical resistant finish, and rubber leg boots.
So, now you're an expert on the dynamics of 'Science Tables', who knew?
Why not visit US Markerboard today to view our selection of Science Tables from Diversified Woodcrafts, Inc. and make an extremely informed purchasing decision today!
'Before you Buy Tables' was contributed by: Julie Ryno, Marketing & Sales Manager at Diversified Woodcrafts, Inc., Suring, WI, Thank you, Julie!