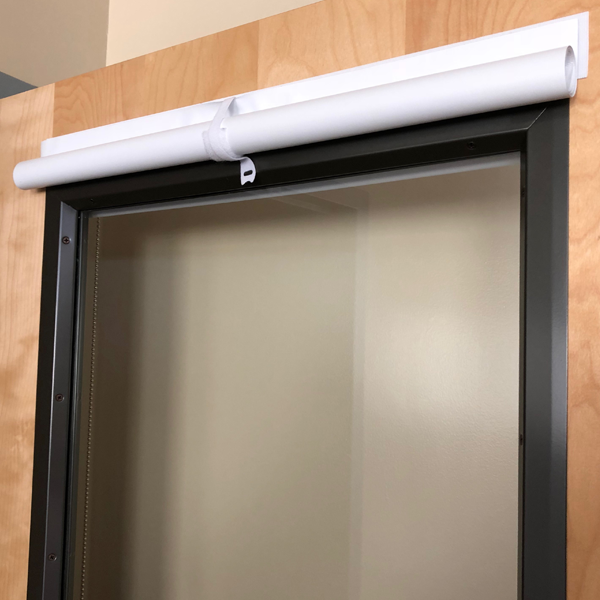 There was an error adding this product to your cart.
Need Help?
We are here to help you every step of the way. You can chat live with a custom product expert or drop us an email and we will get back shortly.
US Markerboard is your single source solution for all Window Shade products.
Need help? We have Live Expert Help, making US Markerboard the ideal company to work with for your Window Shade needs!
If you would rather fill out a physical form and fax it to us, that is also possible. Just download the Measure Form (PDF or DOC) and fax it back to 781-767-9544. A customer service representative will get you a quote based on your measurements.
Spring Shades for small offices are convenient and easy to use. Clutch Shades for classrooms won't spring up too quickly and are easy to control! Motorized Shades for Conference Rooms are ideal for large windows.
We take custom orders because we understand everyone comes to us with a range of needs. Solar glare, heat gain, light block and security concerns are all important considerations when choosing the Window Dressing for you!. We have the expertise and know how to steer you in the right direction. Custom sizes and volume orders are our specialty.
Select A Type
Select the type of curtain you want to build. If you are not sure which type you need, view detailed information for each type by clicking the "More Information" button under the picture. Still not sure? Please don't hesitate to contact us for help. We have experienced staff members waiting for your call!
EZ Care Information
The EZ Care Opaque Window Shades are a simple solution for lockdown requirements. There is no installation or tools required. These shades are custom made to fit your door window or sidelight.
Designed with inherently flame retardant 4-ply fiberglass, it comes complete with a 2" heavy duty Velcro strip with matching adhesive side to easily apply it to a door or sidelight window, and Velcro release tab at the top. There is no hardware, screws or installation required.
Available in White, Ivory, Beige, Green and Black
How to Measure for a Door Shade: Measure the visible glass and add 2" to the width, and then add 6" to the height. As an example, if the glass window measures 24"w x 26"h, you'll want to order a finished size of 26"w x 32"h.
How to Measure for Sidelight Window: Measure the visible glass and add 2" to the width, and then add 3" to the height. As an example, if the glass window measures 18"w x 72"h, you'll want to order a finished size of 20"w x 75"h.
All EZ Care Shades come with Free shipping to the 48 Contiguous states. Volume Discounts Available.
Close This
Clutch Information
Our room darkening clutch operated window shades are perfect for school or institution use.
These shades are made using 12 oz. 4-ply durable fiberglass room darkening material, and are designed not to crack, peel or chip! They come standard with 1-1/2" R16 Rollease clutch and 1-1/4" wood bottom slat. Universal installation brackets are included with each shade.
Close This
Spring Roller Information
US Markerboard's Duraglass 12 oz, 4-ply fiberglass room darkening window shade is specifically designed for schools, institutions, classroom and dormitory room use. With its heavy duty spring roller the Duraglass shade stands up to the everyday rigor of a heavy used environment. Our shades come standard with 1-1/4" wood spring roller and increase to a metal roller for the larger shades. Metal rollers are available on most all sizes over 30" in width.
US Markerboard specializes in custom window shades designed to your specifications. Whether this is your first time ordering window shades or you are an "old hat", we are here to help make the process quick and easy. Looking to find out how much to deduct for the hardware or what brackets to use, we can help.
Our Duraglass shade material is inherently flame retardant and will meet or exceed most all fire codes and regulations. Please call US Markerboard today for details and assistance. No quantity is too large or too small and volume discounts are always available.
Close This
Shade Setup
How Many Do You Need?
Optional Shade Label/Name
This can be used to quickly identify your different custom products.
Example: "Room 220", "Conference Room", "Window A", etc
Choose Inside Or Outside Mount
Choose if you want your shades mounted on the inside or outside. You can see the difference in the images below. If you are not sure what you need, please don't hesitate to contact us.
Choose a Color
Pick the color you want your shade to be. If you are not sure or do not see the color you want, select "Other" and tell us what you are looking for in the "Additional Comments" box below.
Additional Comments
If you have any other specific details please add them here. The more information you give us, the better!
Add To Cart
If you are done building this custom product you can add it to your cart and start building another one, or get your quote request started. In order to get you the best product for the best price, all custom products will be submitted as a quote request. We have experienced staff members waiting to assist you every step of the way.
Customer Questions
Got a Question?
Be the first one to ask us a question about this product.
Customer Reviews
Do You Own This Product?
Be the first one to leave a review and let our customers know about your experiences with this product.