Sliding Door Letterboard Message Centers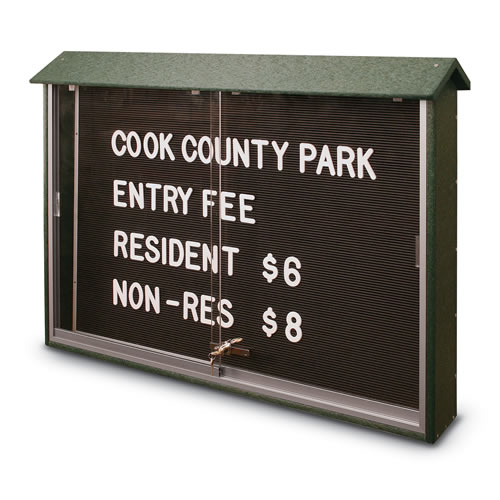 These Sliding Door Letter Board Message Centers make it easy to access, remove, edit, protect, and display the interior letter board with lockable sliding doors that smoothly roll on nylon wheels. In addition, the high-density construction won't crack or rot like regular wood,... Read More
Product Overview
DESCRIPTION

These Sliding Door Letter Board Message Centers make it easy to access, remove, edit, protect, and display the interior letter board with lockable sliding doors that smoothly roll on nylon wheels. In addition, the high-density construction won't crack or rot like regular wood, making it perfect for your golf course, park, or any other outdoor environment. Choose from multiple sizes and frame colors to match your surroundings.
FEATURES

Case Dimensions:

3/4"W Main Frame
1-1/2"W Door Frame
5-1/2" Exterior Depth
3-3/4" Interior Depth
8-1/2" Rain Cover Depth

Features a black vinyl letterboard.
The high-density polyethylene construction prevents these boards from rotting, splintering, or cracking, and ensures durability for years to come.
Comes with a finished back panel.
Looks great on posts (sold separately).
Includes a lock, a removable interior surface, and comes with a 145-piece 2" Helvetica letter/number set.
Customer Questions
Is The Letterboard One Sided Or Two Sided?

This particular message center is one sided, as most stock message centers are. We would be able to produce a double sided message center in a similar style, it would be thicker and likely not be able to have the 'roof' as that is a stock piece imported for production of this unit. If you would like to request a quote for a Double Sided Message Center, the best thing to do is submit a quote request for a Custom Bulletin Board using our Custom Bulletin Board Builder, just enter all the details of the board you would like in the Specifications step, including any links to similar product to help us visualize your board, and we will do our best to get you exactly what you are looking for.

OFFICIAL US MARKERBOARD RESPONSE

Answered By Brian H on Feb 28th, 2018
Customer Reviews
Do You Own This Product?
Be the first one to leave a review and let our customers know about your experiences with this product.