Wall Mounted Blackboards & Chalkboards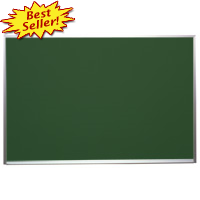 Chalkboard features porcelain steel magnetic surface for smoother writing and better visibility
Choose from green or slate grey Chalkboard Surfaces
Available with aluminum or oak frame to match your classroom, office or conference room
Chalkboard comes with tray to hold supplies
All Chalkboards come with 50 year warranty
$42.99 - $864.99

(3)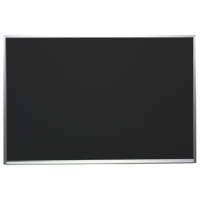 The durable slate coating on tempered hardboard has a thick texture for rich chalk marks.
Boards are economically prices and have excellent erasing qualities.
Comes with factory-mounted hangers.
Available with your choice of a satin anodized aluminum or a solid red oak frame with a high gloss lacquer finish.
Additional sizes are available. Please call for details.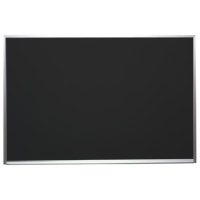 Available in almost any size or shape!
Customized to fit your needs and specifications!
Don't see what you need? Call 800-791-2946 and a Customer Service Representative will be happy to assist you.
Great for hospitals, businesses, schools, and universities!
Call for more options.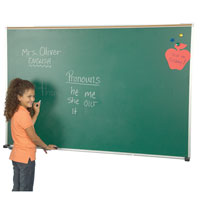 Doubles as a Chalkboard and a magnetic tackboard.
Clean up is easy with ammonia and water.
Includes a full-length tackable map rail and accessory tray with rubber Dura-Safe corners.
Boards include L-clips, rawl plugs, and screws for installation.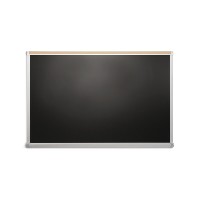 Wall Mounted Blackboards & Chalkboards
Our Blackboards and Chalkboards feature durable, all-purpose surfaces ranging from porcelain steel to high pressure laminate. These wall-mounted models include Green Chalkboards, Blackboards, magnetic chalkboards, and boards with chalk trays for your office or classroom. Choose from a variety of sizes and frames to fit your unique work area.