Wall Mounted Black Marker Boards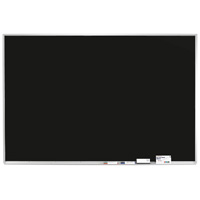 Choose from 1" aluminum or 2" oak frame
Trays feature smooth corners for safety
Installation Hardware included
Max quantity for Quick Ship is 6
We specialize in custom size boards. Call 800-791-2946 for pricing
Soft black vinyl trim is carefully fashioned to the curved edges of the melamine surface.
Pre-attached hangers are included.
Choose from 4 different sizes to fit your store, bar, cafe, or restaurant wall.
$12.99 - $68.99

(1)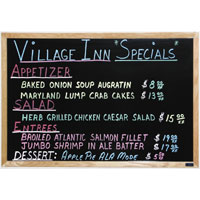 Melamine surfaces are recommended for light use, whereas acrylic surfaces are recommended for heavy use.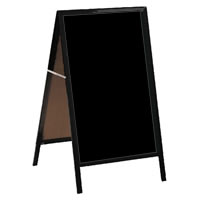 Both surfaces are Non-Magnetic.
Assembled with weather-resistant hardware.
Corners are reinforced with steel angles for long-lasting durability.
Available in 3 frame styles and 6 board surfaces.
Writing surface measures 36"H x 24"W. Overall height is 42".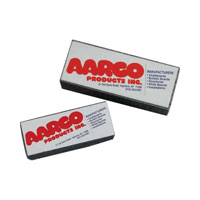 Available in small or large sizes.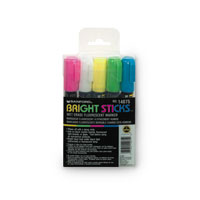 Erases with a damp cloth.
Includes 5 colors: pink, white, yellow, green, and blue.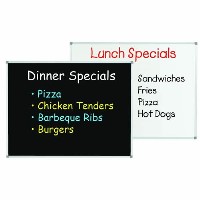 Full Size:
Compact:
Both Models Include: Power Supply, Chain, One Marking Pen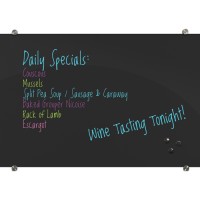 Wall Mounted Black Marker Boards
These Black Markerboards combine a smooth-writing dry erase surface with a contrasting dark background to make your white and neon-colored markerstrokes even more eye-catching. Besides reducing stress on your wrist as you write, the dry erase surface won't leave behind the dust and air pollutants that a chalkboard or blackboard might. Buy a Wall Mounted Black Markerboard for your bookstore, restaurant, cafe, or retail store and get the combined benefits of a dry erase board and a chalkboard.