Vertical Sliding Whiteboards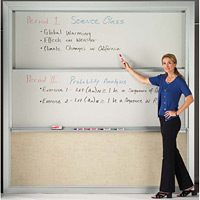 2 sliding whiteboard glide to reveal a larger, fixed back panel for 3x the writing surface!
The 50-year warranty allows your lessons to move along with reassurance of the board's porcelain-on-steel surface quality.
Low-gloss boards and chalkboard surfaces are also available, maximizing versatility.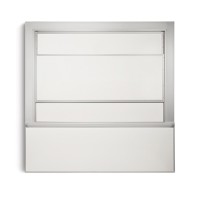 Many surfaces available
7/8" Honeycomb core with Aluminum Backing sheet
3/4" Aluminum frame face
Kickplate on floor units
Available in many custom combinations, please call

Vertical Sliding Whiteboards
Vertical Sliding Whiteboard Systems combine the writing surface area of multiple boards into the space needed for one to provide an efficient and cost-effective solution in your classroom, office, or conference room. In addition, presentations flow smoothly because teachers and lecturers can stay stationary and write continuously without having to stop and erase. Order a vertical sliding markerboard today and save space in your workplace.