Student Lap Boards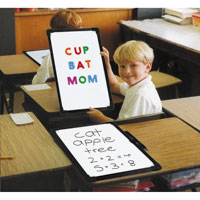 Extremely lightweight, yet durable enough to handle daily use.
Reusable boards help cut down on paper costs.
Radius corners with a black or white vinyl frame.
Magnetic dry erase surface.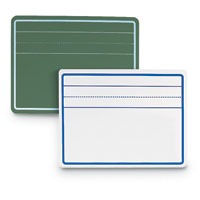 Lightweight lapboards with rounded corners.
Easy to clean and erase.
Choose green chalk surface or white dry erase surface.
All boards are 9" x 12".
Grid, Clock, and Alphabet Boxes styles must be ordered in multiples of 50.
Student Lap Boards
These portable whiteboards enable students to follow along with lessons and sketch out ideas in their own way at their own pace. In addition, the compact, easy-to-write-on designs allow teachers to provide individualized instruction in smaller classes. Stock up on Lap Markerboards for your school classroom to make the learning process as interactive and engaging as possible for every student.