Sidewalk & Menu Whiteboards
Assembled with weather-resistant hardware.
Corners are reinforced with steel angles for long-lasting durability.
Available in 3 frame styles and 6 board surfaces.
Writing surface measures 36"H x 24"W. Overall height is 42".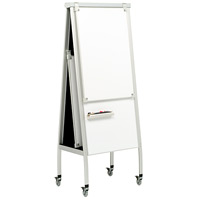 Select from a variety of different available sizes.
Specify either a double-sided EVS Write Markerboard, a double-sided tackable fabric board, or a board with one of each.
If applicable, select a fabric pattern.
Model KEA3074 is available for Instant Ship.
This item can be Customized in many ways beyond the options listed on this page, please call for more information.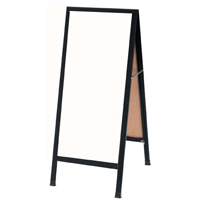 Great for tight spots
Steel reinforced corners
Weather resistant hardware
Unique plastic camel foot floor leveling system
Full width aluminum hinges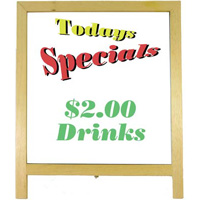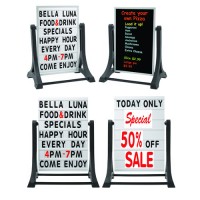 Double Sided
42" High when assembled
Durable yet affordable
Easily assembled
All weather stand
Sidewalk & Menu Whiteboards
Our Sidewalk & Menu Whiteboards come in foldable and mobile designs for easy storage and transport during your direct marketing campaigns. The dry erase surfaces are durable, easy to write on, easy to read from, and easy to maintain. In addition, writing with markers can help optimize air quality by minimizing residual dust and particles. Buy a Sidewalk & Menu Markerboard today and maintain full flexibility in reaching out to customers and increasing sales.