Sidewalk & Menu Black Marker Boards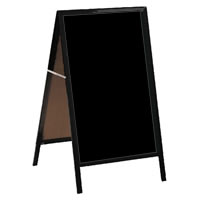 Both surfaces are Non-Magnetic.
Assembled with weather-resistant hardware.
Corners are reinforced with steel angles for long-lasting durability.
Available in 3 frame styles and 6 board surfaces.
Writing surface measures 36"H x 24"W. Overall height is 42".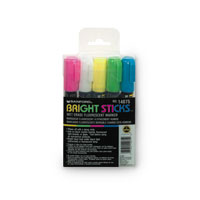 Erases with a damp cloth.
Includes 5 colors: pink, white, yellow, green, and blue.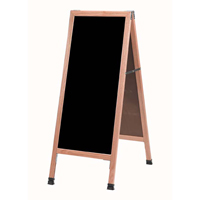 Great for tight spots
Steel reinforced corners
Weather resistant hardware
Unique plastic camel foot floor leveling system
Full width aluminum hinges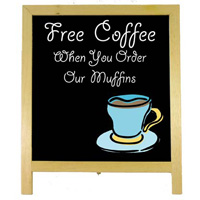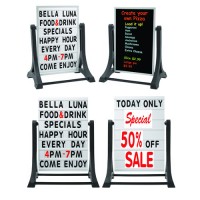 Double Sided
42" High when assembled
Durable yet affordable
Easily assembled
All weather stand
Sidewalk & Menu Black Marker Boards
These Folding Black Markerboards feature compact, portable designs that are easy to move around your sidewalk or inside your place of business. They're easy to store, easy to write on, and they provide a dark background that makes daily specials and menu items written in white or neon ink even easier to see for customers. Buy a Sidewalk/Menu Black Markerboard today and set it up near the entrance of your bar, café, restaurant, or small business.