Readerboards and Marquee Outdoor Enclosed Letter Boards
Side hinged door with tamper proof locks (two keys included).
1/4" Shatter proof Lexan window.
Sturdy tracks mounted onto a removable white acrylic background.
Three hundred 4" letters and numbers included.
UL listed fluorescent light fixture.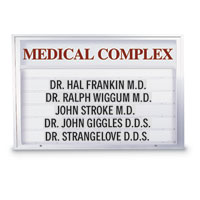 Top header allows for large single or double line copy.
Top hinged door with tamper-proof locks.
Crystal clear 1/4" lexan window.
3" face frame.
Extruded PVC clear copyboard track.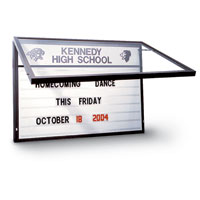 Hardware and cabinets are fully welded with 3/16" thick aluminum extrusions.
Weather-resistant 0.040 aluminum backing.
Aluminum framed, vandal-proof 1/4" lexan door.
Sturdy prop-arms and non-visible hinge for safe and quick door opening and closing.
110 high output ballasts with cool white lamps to insure lighting in cold weather.
Top hinged doors for easy access
Heavy duty door stays
Removable 5 line acrylic letter board
One color header with standard Clear Gothic typeface included, optional colors and graphics available.
Locking doors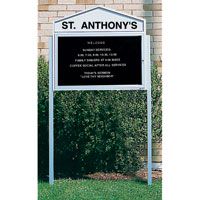 Mount your readerboard at an ideal reading height.
Posts provide an alternative to mounting on your building.
Readerboards and Marquee Outdoor Enclosed Letter Boards