Outdoor Enclosed Vinyl Bulletin Boards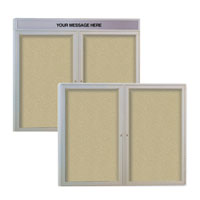 THIS PRODUCT IS NON-RETURNABLE/NON-REFUNDABLE
Exterior case depth: 2-1/4".
Interior case depth is 7/8".
Acrylic Glass Thickness: 1/8".
Self supporting doors with continuous hinges.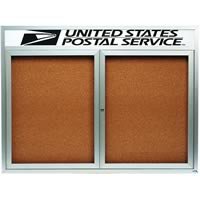 Custom Enclosed Bulletin Boards
Custom Enclosed Directory Letter Boards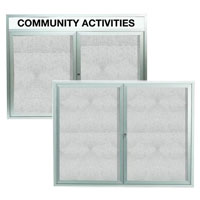 Outside Depth: 2-1/8"
Corners are neatly mitered and assembled with heavy-duty reinforcements and fasteners.
Includes lockable doors, acrylic safety glass windows, continuous hinges, concealed mounting brackets.
Features vented case for to minimize damage from moisture, a weatherized rear panel and a thick rubber door seal.
Lighted models feature UL-listed fluorescent fixtures, a light deflector, bulbs and a 3 wire electrical lead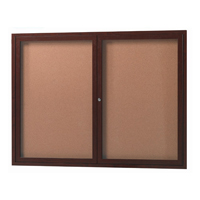 Available in Cherry or Oak Wood-Look Finish.
Standard with vinyl tackable surface.
Choose from a number of different sizes to match your wall space at school, at a restaurant, or at the office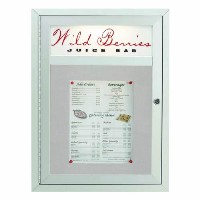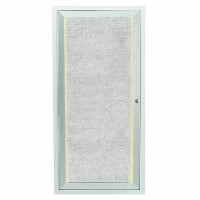 Standard Features:
Outdoor Model:
One piece aluminum frame with Waterfall-style edge.
Available in three elegant finishes (Clear Anodized, Antique Brass, Gold).
Suitable for indoor or outdoor environments.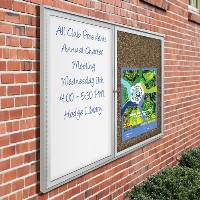 Available in top or side hinge set-up with either single or double door configuration
Top-mounted drip rail, weather stripping on door openings and silicone sealed galvanized steel back protect from moisture
Anodized aluminum steel trim and a moisure-resistant Rubber-Tak back panel. Also available with a a half Rubber-Tak and half porce...
Made in the USA.
Can also be used indoors.

Outdoor Enclosed Vinyl Bulletin Boards
Outdoor Bulletin Boards with glass doors to protect displays from nature are a great opportunity for drawing crowds in. Vinyl bulletin boards for outdoor use or rubber tak boards for outdoor use provide a weather-safe background to pin displays onto. You can also draw or write messages onto the dry erase board for outdoor use! Hinged locking doors on outdoor bulletin boards keep displays safe from undesired changes.Complete your outdoor display with outdoor bulletin boards with lights. They're the perfect feature for nighttime displays!The Park Series Outdoor Enclosed Bulletin Boards have a Composite Wood Frame, giving it a natural look to fit right in with nature! They're eco-friendly to help reduce your Carbon Footprint! Check out all of our Green Products to give your business or classroom a Green makeover.Check out the rest of the Indoor and Outdoor Bulletin Boards for all of your bulletin board ideas!