Outdoor Enclosed Vinyl Bulletin Boards

View Item
Outdoor Enclosed Aluminum Bulletin Boards
$164.95 - $875.86

View Item
Outdoor Enclosed Aluminum Bulletin Boards with Lighting
$220.64 - $1,328.42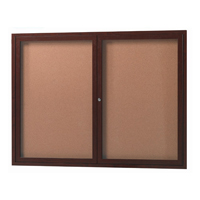 View Item
Outdoor Enclosed Aluminum Bulletin Boards with Wood-Look Finish
$167.70 - $443.19

View Item
Waterfall Frame Enclosed Bulletin Board
$127.84 - $327.98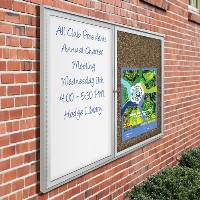 View Item
Weather Sentinel Outdoor Bulletin Board
$196.48 - $1,009.72
Outdoor Enclosed Vinyl Bulletin Boards
We at US Markerboard offer you the widest collection of Outdoor bulletin boards. We are a leading company that produces whiteboards and Presentation Boards.
Our selection of Outdoor enclosed bulletin boards present you with the perfect opportunity to display messages and notices for your customers and also keep the visitors fully updated about your campus, country club, tourist attractions, and company updates.
We offer you enclosed bulletin boards that can be attached in the office building entrance, or casually visited open areas. Our boards feature locking doors with sturdy construction to safeguard your display from getting robbed or vandalized. We offer you boards for corporate as well as institutions along with lighting that could make reading easier even at night.
We offer you the perfect cost effective outdoor enclose bulletin boards for any and every location you desire. We can customize the board to fit your needs and requirements.