Mobile Lab Demonstration Carts

Receive a Free Comprehensive Quote on High-Quality Science Furniture.


Your comprehensive quote will include product information, model numbers, quantities, line item pricing as well as all Quantity Discounts, Manufacturer Rebates, and Shipping Discounts.
To receive your free comprehensive quote, simply add all items to your cart that you wish to have quoted. On the top right of your screen click "View Cart". In the cart you will click the "Request a Quote" button.
Your request will be forwarded to one of our knowledgeable and friendly Science Furniture Specialists, who will work on your request and reply back with your Free Quote. If you have any questions please do not hesitate to call us M-F 8:30AM-5PM EST 1-800-791-2946. Thank you for visiting US Markerboard for your Science Furniture needs.

View Item
ADA Mobile Science Lab Workstation
$1,132.94 - $1,697.84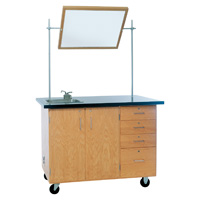 View Item
Deluxe Mobile Science Lab Workstation
$1,357.64 - $1,715.69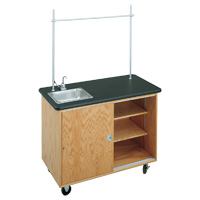 View Item
Lightweight Mobile Science Lab Workstation
$671.99 - $916.64

View Item
Mobile Lab Cart with Single Shelf
$361.19 - $387.44

View Item
Mobile Lab Demo Table with Concealed Drawers
$929.24 - $1,190.69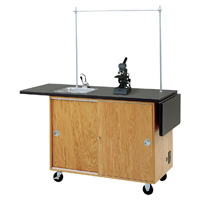 View Item
Mobile Lab Workstation with Folding Extensions
$937.64 - $1,162.34
Mobile Lab Demonstration Carts
These Mobile Science Lab Demo Units feature your choice of heat-, scratch-, and chemical-resistant countertops with or without sink and fixtures on sturdy oak bases that roll around your science classroom on swivel casters that brake for safety. The oak bases also feature plentiful storage space in the form of shelves, locking cabinets, and drawers to securely store lab equipment and supplies. Add a Mobile Science Table Unit to your lab or classroom and give yourself quick, easy access to all your class and experiment needs anytime, anywhere.