Mobile and Reversible Whiteboards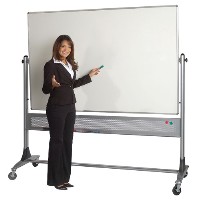 3 writing surfaces and a cork surface to pick and choose from:Stable, safe board locks into place for added stability when present...
$386.95 - $877.95

(2)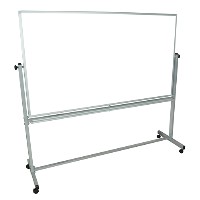 Assembled Dimensions:
Product Information: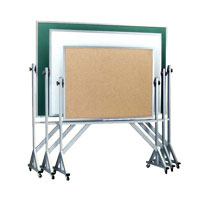 Choose melamine or magnetic whiteboard surfaces and get to writing:Lock casters and the board into place to reduce injury :There a...
Porcelain Steel Writing Surface with Lifetime Warranty
Revolving model allows panel to be flipped over
Aluminum Frame with 3/4" Face
Full length 2-3/4" Aluminum Chalktray with Polished Radius Ends
Fully welded steel tube frame with Powder Coated Finish

Turn your stationary board into a traveling lesson:Interactive boards can hitch a ride, too:Holds up to a 200 pound board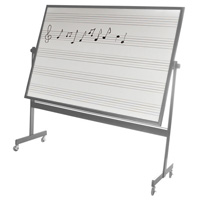 Optional blank markerboard or additional lined side available:Double pin locking system increases safety to prevent unwanted relea...
50 year guarantee assures your faith in this double-sided writing surface:Porcelain, magnetic whiteboards give markers greater con...
Style and safety meet in this stable board that locks into place:Choose from 4 surface types and mix-and-match to get the most out...

$368.62 - $701.94

(1)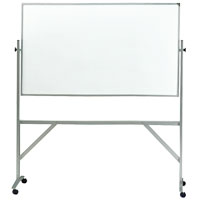 Out of writing space? Don't flip out! Flip the board! 2x the writing space
Increase safety with locking brakes
Full length accessory tray keeps markers handy and stays stable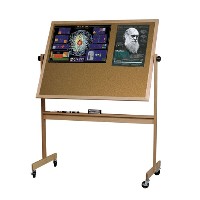 Stick a pin in it! Get creative with a corkboard side.
Let the lessons roll with these smooth and stable rolling boards.
Choose from 3 surfaces to mix-and-match.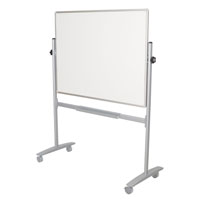 Lumina has a luminous, easy writability surface
Locking knobs flip and lock the board easily to prevent unwanted surprises while writing and moving
Accessory trays keep markers and erasers at your fingertips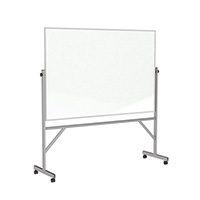 Includes 4 casters with 2 locking wheels, 4 markers, and an eraser
Reversing mechanism designed to make flipping to the other side a snap
Steel lock clamps adjust to secure board to preferred position
Full-length accessory tray and reinforced legs add bracing for stability and security
Backed with a 10 year warranty. Made in the USA and is TAA compliant


Assembled Dimensions:
Product Information:

Mobile and Reversible Whiteboards
Our Mobile Freestanding Reversible Whiteboards, Chalkboards and Bulletin Boards help you save space on your wall and make easy-to-see presentations anywhere at anytime in your office or classroom. We offer assorted surfaces, from full corkboard, chalkboard, and high-quality dry erase whiteboard to part bulletin-part whiteboard. Choose from a number of designs, sizes, and writing and posting surfaces.