Cake & Bundt Pans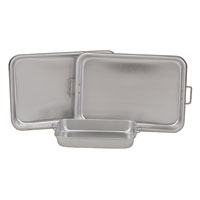 Available in two sizes.
There is a $5.00 charge for all Royal Industries orders under $75.00 added to shipping at checkout.
Cake & Bundt Pans
Cake & Bundt Pans provide a sturdy, spacious baking and shaping surface made from easy-to-clean, oven-friendly materials. These special containers offer a variety of convenient features, including handles for stable transport from countertop to and from the oven, and removable bottoms for cheesecakes and other delicate baked goods and confections. Equip your kitchen with Cake & Bundt Pans and put your best foot forward for corporate functions, restaurant meals, bakery displays, or desserts at home.