36"H x 30"W Outdoor/Indoor Headliner Changeable Letterboard, With 6"H Lighted White Acrylic Header, 1 Door, Bronze Aluminum Frame Finish - Burgundy Letterboard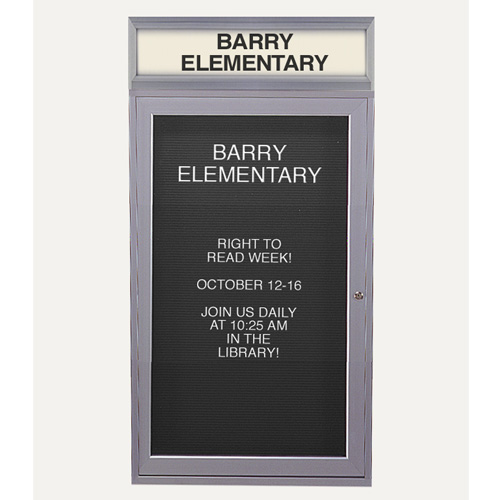 This indoor & outdoor bulletin board has weather-resistant backing, a durable aluminum frame, & a vinyl surface available in several colors. Headings & lighting are available for this locking board.
Reg. $653.99
Sale: $588.59
Sale Ends: 12/31/17
List Price:

$1,175.00
You Save:

$521.01 (44%)
Customer Reviews:
Be the first to review this product.


Write a Review »
Have Questions?

Enclosed Changeable Letter Boards
keep your announcements, listings and directories secure behind shatter-resistant hinged doors equipped with disc tumbler locks. An attractive letter panel with precision grooves provides a long-lasting background for your messages and makes it easy to insert letters.
The particular unit features a tough vinyl letter panel, weather-resistant backing, and durable aluminum framing to withstand the elements for extended periods when positioned under shelter.
Exterior case depth: 2-1/4".
Interior case depth is 7/8".
Glass Thickness: 1/8".
A set of 3/4" letters, numbers, and characters is included.
Self supporting doors with continuous hinges.
Tumble locks with keys.
Choose from Bronze Aluminum, Satin Aluminum, Oak, or Walnut finish.
Letter panels are available in your choice of black or burgundy.
Outdoor Vinyl Letter Panel Units available in Aluminum.
Available with 1, 2 or 3 doors
Dimensions: Exterior - (Interior Space):

24"H x 18"W (22-5/8"H x 16-5/8"W)
36"H x 24"W (34-5/8"H x 22-5/8"W)
36"H x 30"W (34-5/8"H x 28-5/8"W)
36"H x 36"W (34-5/8"H x 34-5/8"W)
36"H x 48"W (34-5/8"H x 46-5/8"W)
36"H x 60"W (34-5/8"H x 58-5/8"W)
48"H x 60"W (46-5/8"H x 58-5/8"W)
36"H x 72"W (34-5/8"H x 70-5/8"W)
48"H x 72"W (46-5/8"H x 70-5/8"W)
48"H x 96"W (46-5/8"H x 94-5/8"W)
You May Also Like