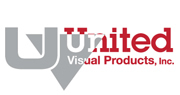 United Visual Products, Inc.
Best United Visual Products, Inc. Online Retailer
Established in the a suburbs of Milwaukee, United Visual Products has been developing and manufacturing attractive and durable visual communication boards to fit the ever-changing needs of the industry since 1996. Our goal has been to produce high-quality, economical visual communication boards for both standard and specialized needs.

Over the years, UVP has continued to expand its product selection, regularly developing new products to meet the needs of the industry. The majority of our boards are developed, designed and manufactured in our 200,000 square foot facility located just near the shores of Lake Michigan. Our selection is ever growing and changing with the most in-demand, as well as classic, products. We feature a large selection of Indoor and Outdoor Bulletin Boards, Letterboards, Readerboards, Dry Erase Boards and Digital Signage Boards, as well as crowd control products such as "Message" Tape and Rope Posts. Our recent developments include Double-Sided and Bottom-Hinge Outdoor Message Center, Custom Printed Glass Dry Erase Boards, specialized Corporate Boards.