ZUMA® Series Mobile Task Chair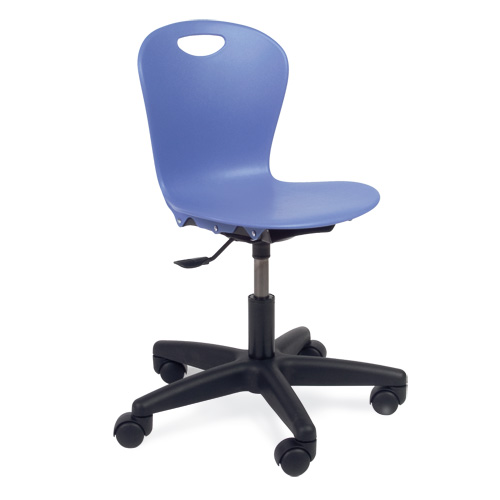 Customer Reviews:
Be the first to review this product.


Write a Review »
Have Questions?

Virco's best-selling ZUMA® line gives your students the benefits of a comfortable, ergonomically contoured seat. From intuitive backrest ribs to a supportive contoured seat, ZUMA chairs incorporate passive ergonomic features for long-lasting comfort. Because seat height adjustability is such an important ergonomic factor, the ZUMA® line includes adjustable task chair models to accommodate a wider range of students.
ZTASK15 seat height adjust from 14" to 17"
ZTASK18 seat height adjust from 16" to 20-1/2"
Choose any of ZUMA's 12 colors
5-point base with dual-wheel, hooded casters for easy mobility
You May Also Like
For your reference:
This item is also sometimes listed under the following manufacturer numbers
ZTASK15-BLK01-BLK01, ZTASK15-BLK01-BLU40, ZTASK15-BLK01-BLU51, ZTASK15-BLK01-BRN14, ZTASK15-BLK01-GRN12, ZTASK15-BLK01-GRN34, ZTASK15-BLK01-GRN75, ZTASK15-BLK01-GRY41, ZTASK15-BLK01-PUR43, ZTASK15-BLK01-RED50, ZTASK15-BLK01-RED70, ZTASK15-BLK01-YLW47, ZTASK15-GRY02-BLK01, ZTASK15-GRY02-BLU40, ZTASK15-GRY02-BLU51, ZTASK15-GRY02-BRN14, ZTASK15-GRY02-GRN12, ZTASK15-GRY02-GRN34, ZTASK15-GRY02-GRN75, ZTASK15-GRY02-GRY41, ZTASK15-GRY02-PUR43, ZTASK15-GRY02-RED50, ZTASK15-GRY02-RED70, ZTASK15-GRY02-YLW47, ZTASK18-BLK01-BLK01, ZTASK18-BLK01-BLU40, ZTASK18-BLK01-BLU51, ZTASK18-BLK01-BRN14, ZTASK18-BLK01-GRN12, ZTASK18-BLK01-GRN34, ZTASK18-BLK01-GRN75, ZTASK18-BLK01-GRY41, ZTASK18-BLK01-PUR43, ZTASK18-BLK01-RED50, ZTASK18-BLK01-RED70, ZTASK18-BLK01-YLW47, ZTASK18-GRY02-BLK01, ZTASK18-GRY02-BLU40, ZTASK18-GRY02-BLU51, ZTASK18-GRY02-BRN14, ZTASK18-GRY02-GRN12, ZTASK18-GRY02-GRN34, ZTASK18-GRY02-GRN75, ZTASK18-GRY02-GRY41, ZTASK18-GRY02-PUR43, ZTASK18-GRY02-RED50, ZTASK18-GRY02-RED70, ZTASK18-GRY02-YLW47