Tuffy Series Utility Cabinets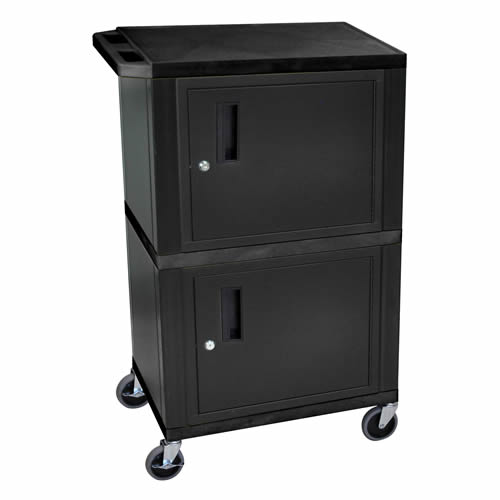 Customer Reviews:
Be the first to review this product.


Write a Review »
Have Questions?

- Or -
H. Wilson's WT Tuffy multi-purpose cabinets are made of high density polyethylene structural foam injection molded plastic shelves and legs that will not chip, warp, crack, rust or peel. Shelves and legs are made from recycled material.
Tuffy Series Cabinets:

Shelves are constructed with an injection molded thermoplastic resin that will not chip, warp, rust or peel
Shelves have a 1/4" safety retaining lip, available in black
Locking steel cabinet panels fit firmly into the specially fluted leg slots
A set of silent roll, 4" full swivel ball bearing casters, two with locking brakes
Optional WTD locking steel drawer
Raised texture surface to enhance product placement and ensure minimal sliding
WT50: Two 20 gauge locking steel piano hinge cabinets, 24"L x 50"H x 18"D
WTC42C2: One 20 gauge locking steel piano hinge cabinet, one raised shelf with handle
WT34C2: One 20 gauge locking steel piano hinge cabinet, one half raised shelf with handle
WT26C2: One 20 gauge locking steel piano hinge cabinet
All models are not available in all colors
You May Also Like
For your reference:
This item is also sometimes listed under the following manufacturer numbers
WT26BUC2-B, WT26BYC2-B, WT26GC2-B, WT26GYC2-B, WT26HGC2-B, WT26ORC2-B, WT26PC2-B, WT26RC2-B, WT26YC2-B, WT26ZC2-B, WT34BUC2-B, WT34BUC2-B/WTD, WT34BYC2-B, WT34BYC2-B/WTD, WT34C2-B, WT34C2-B/WTD, WT34GC2-B, WT34GC2-B/WTD, WT34GYC2-B, WT34GYC2-B/WTD, WT34HGC2-B, WT34HGC2-B/WTD, WT34ORC2-B, WT34ORC2-B/WTD, WT34OWC2-B, WT34OWC2-B/WTD, WT34PC2-B, WT34PC2-B/WTD, WT34RC2-B, WT34RC2-B/WTD, WT34YC2-B, WT34YC2-B/WTD, WT34ZC2-B, WT34ZC2-B/WTD, WT42BUC2-B, WT42BUC2-B/WTD, WT42BYC2-B, WT42BYC2-B/WTD, WT42C2-B, WT42C2-B/WTD, WT42GC2-B, WT42GC2-B/WTD, WT42GYC2-B, WT42GYC2-B/WTD, WT42HGC2-B, WT42HGC2-B/WTD, WT42ORC2-B, WT42ORC2-B/WTD, WT42OWC2-B, WT42OWC2-B/WTD, WT42PC2-B, WT42PC2-B/WTD, WT42RC2-B, WT42RC2-B/WTD, WT42YC2-B, WT42YC2-B/WTD, WT42ZC2-B, WT42ZC2-B/WTD, WT50B