Premiere® Prepared Slide Sets for Schools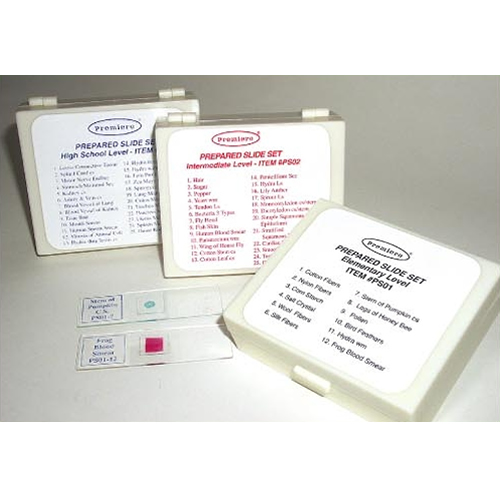 Image May Not Reflect Selected Options
Customer Reviews:
Be the first to review this product.


Write a Review »
Have Questions?

The glass slides in these prepared slide sets are professionally stained and mounted for observation under a microscope. Each slide is individually labeled and packed in the set's 25-capacity labeled storage box.
A large assortment of over three hundred other prepared slides is available for purchase separately; call for details.
Elementary Level Set contains the following slides:

Cotton Fibers
Nylon Fibers
Corn Starch
Salt Crystal
Wool Fibers
Silk Fibers
Stem of Pumpkin c.s.
Legs of Honey Bee
Pollen
Bird Feathers
Hydra w.m.
Frog Blood Smear

Intermediate Level Set contains the following slides:

Hair
Sugar
Pepper
Yeast w.m.
Tendon l.s.
Bacteria (3 types)
Fly Head
Fish Skin
Human Blood Smear
Paramecium w.m.
Wing of House Fly
Cotton Stem c.s.
Cotton Leaf c.s.
Penicillium Sec.
Hydra l.s.
Lily Anther
Sprout l.s.
Monocotyledon stem c.s.
Dicotyledon stem c.s.
Simple Squamous Epithelium
Stratified Squamous Epithelium
Cardiac Muscle (Heart)
Smooth Muscle
Testes-Mammal
Ovary

High School Level Set contains the following slides:

Loose Connective Tissue
Spinal Cord c.s.
Motor Nerve Ending
Stomach-Mammal Sec.
Kidney c.s.
Artery & Vein c.s.
Blood Vessel of Lung
Blood Vessel of Kidney
Taste Bud
Mouth Smear
Human Sperm Smear
Mitosis of Animal Cell
Hydra thru Testis c.s.
Hydra thru Ovary c.s.
Hydra with Bud
Fern Prothalium w.m.
Zea Mays (corn) Seed l.s.
Spirogyra
Lung-Mammal
Colon-Mammal
Trachea-Mammal
Pancreas-Mammal
Uterus-Mammal
Spleen-Mammal
Onion Root Tips
You May Also Like
For your reference:
This item is also sometimes listed under the following manufacturer numbers
PS01, PS02, PS03