Keepsake 4000 Series Aluminum Frame Display Cases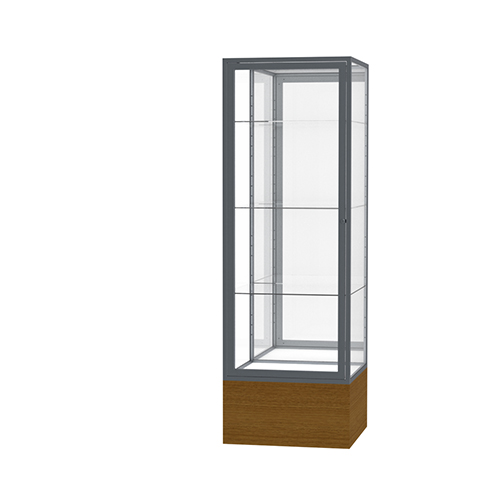 Customer Reviews:
Be the first to review this product.


Write a Review »
Have Questions?

Keepsake Series cases are rugged repositories for archival quality collections. Museums, libraries, historical societies or any organization that needs a secure way to present valuable objects will appreciate the craftsmanship. Free standing model comes with a hinged door and a wood veneer base in either oak or wood-grained vinyl. Keepsake Series showcases feature tempered glass, a built-in lock, a white interior bottom, and built-in floor levelers.
Measures 24"L x 72"H x 24"D with 12"H base
Available with Vinyl or Oak base
Hinged, tempered glass door with built-in lock
Three adjustable shelves with clips
Levelers standard
Optional factory installed light cornice available
You May Also Like
For your reference:
This item is also sometimes listed under the following manufacturer numbers
4024CB-BZ-AK, 4024CB-BZ-DK, 4024CB-BZ-LV, 4024CB-BZ-MK, 4024CB-BZ-WV, 4024CB-GD-AK, 4024CB-GD-DK, 4024CB-GD-LV, 4024CB-GD-MK, 4024CB-GD-WV, 4024CB-SN-AK, 4024CB-SN-DK, 4024CB-SN-LV, 4024CB-SN-MK, 4024CB-SN-WV, 4024MB-BZ-AK, 4024MB-BZ-DK, 4024MB-BZ-LV, 4024MB-BZ-MK, 4024MB-BZ-WV, 4024MB-GD-AK, 4024MB-GD-DK, 4024MB-GD-LV, 4024MB-GD-MK, 4024MB-GD-WV, 4024MB-SN-AK, 4024MB-SN-DK, 4024MB-SN-LV, 4024MB-SN-MK, 4024MB-SN-WV, 4124CB-BZ-AK, 4124CB-BZ-DK, 4124CB-BZ-LV, 4124CB-BZ-MK, 4124CB-BZ-WV, 4124CB-GD-AK, 4124CB-GD-DK, 4124CB-GD-LV, 4124CB-GD-MK, 4124CB-GD-WV, 4124CB-SN-AK, 4124CB-SN-DK, 4124CB-SN-LV, 4124CB-SN-MK, 4124CB-SN-WV, 4124MB-BZ-AK, 4124MB-BZ-DK, 4124MB-BZ-LV, 4124MB-BZ-MK, 4124MB-BZ-WV, 4124MB-GD-AK, 4124MB-GD-DK, 4124MB-GD-LV, 4124MB-GD-MK, 4124MB-GD-WV, 4124MB-SN-AK, 4124MB-SN-DK, 4124MB-SN-LV, 4124MB-SN-MK, 4124MB-SN-WV