Egan™ V-Series Mobile Boards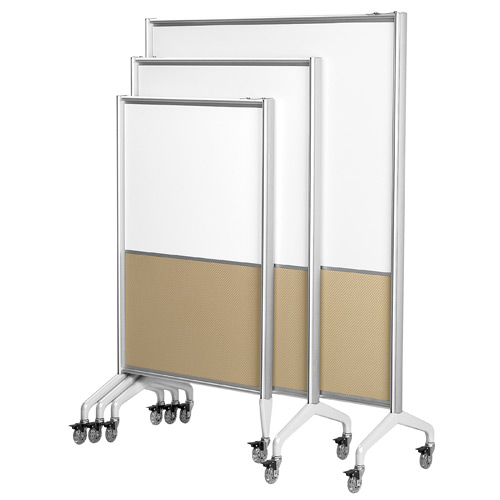 Image May Not Reflect Selected Options
Customer Reviews:
Be the first to review this product.


Write a Review »
Have Questions?

V-Series Mobiles feature an EVS Write dry-erase surface that accepts
Magnetic
accessories. EVS Write Surface is offered full height or split height with EganMetallic bases. Accessory Grooves in uprights provide easy location of accessories. EVS is guaranteed-to-clean. For best, dust-free results, use quality dry-erase markers, and clean with an EganCloth.
Choose from among four models: a model with a 3-point base; a split-panel model with a 3-point base; a model with a 4-point base; and a split-panel model with a 4-point base.
Select from a variety of different available sizes.
Specify with any combination of EVS Write and tackable EganFabric.
A variety of different options are available for purchase with V-Series Mobiles.
Optional links available to connect multiple V-Series Mobiles.
Optional Magnetic track kits available.
Optional accessory shelves available.
This item can be customized in many ways beyond the options listed on this page, please call for more information.
ATTENTION: Please note that Egan Products may not be returned unless defective.
You May Also Like
For your reference:
This item is also sometimes listed under the following manufacturer numbers
VCF3054EE, VCF3054EF, VCF3054FF, VCF3060EE, VCF3060EF, VCF3060FF, VCF3066EE, VCF3066EF, VCF3066FF, VCF3654EE, VCF3654EF, VCF3654FF, VCF3660EE, VCF3660EF, VCF3660FF, VCF3666EE, VCF3666EF, VCF3666FF, VCF3672EE, VCF3672EF, VCF3672FF, VCF4854EE, VCF4854EF, VCF4854FF, VCF4860EE, VCF4860EF, VCF4860FF, VCF4866EE, VCF4866EF, VCF4866FF, VCF4872EE, VCF4872EF, VCF4872FF, VCF6054EE, VCF6054EF, VCF6054FF, VCF6060EE, VCF6060EF, VCF6060FF, VCF6066EE, VCF6066EF, VCF6066FF, VCT3054EE, VCT3054EF, VCT3054FF, VCT3654EE, VCT3654EF, VCT3654FF, VCT4854EE, VCT4854EF, VCT4854FF, VCT6054EE, VCT6054EF, VCT6054FF, VSF3054EE, VSF3054EF, VSF3054FF, VSF3060EE, VSF3060EF, VSF3060FF, VSF3066EE
, VSF3066EF, VSF3066FF, VSF3654EE, VSF3654EF, VSF3654FF, VSF3660EE, VSF3660EF, VSF3660FF, VSF3666EE, VSF3666EF, VSF3666FF, VSF3672EE, VSF3672EF, VSF3672FF, VSF4854EE, VSF4854EF, VSF4854FF, VSF4860EE, VSF4860EF, VSF4860FF, VSF4866EE, VSF4866EF, VSF4866FF, VSF4872EE, VSF4872EF, VSF4872FF, VSF6054EE, VSF6054EF, VSF6054FF, VSF6060EE, VSF6060EF, VSF6060FF, VSF6066EE, VSF6066EF, VSF6066FF, VST3054EE, VST3054EF, VST3054FF, VST3654EE, VST3654EF, VST3654FF, VST4854EE, VST4854EF, VST4854FF, VST6054EE, VST6054EF, VST6054FF
...
Show All