Egan™ 202 ADA Lectern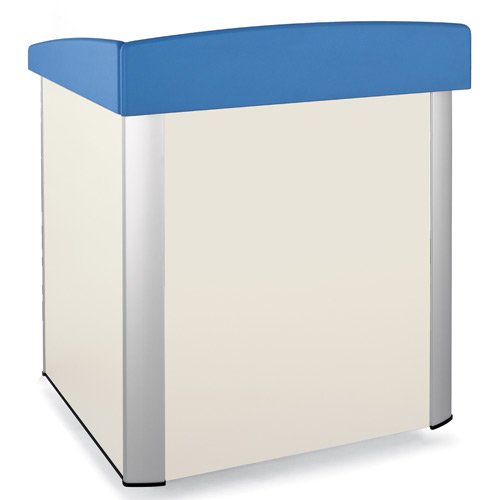 Image May Not Reflect Selected Options
Customer Reviews:
Be the first to review this product.


Write a Review »
Have Questions?

Height-adjustable 202 ADA Lectern is equipped with a push button, electric-lift mechanism that adjusts the working height from 34"-44". Inside clearance accommodates wheelchair access and complies with the Americans with Disabilities Act. Wiring grommets for field setup of laptops, tablets, and microphones.
Specify Crown (top) finish in Etex and Body finish in Etex or Wood Veneer.
Optional lamp available.
Optional clock/timer available.
This item can be customized in many ways beyond the options listed on this page, please call for more information.
ATTENTION: Please note that Egan products may not be returned unless defective.
You May Also Like
For your reference:
This item is also sometimes listed under the following manufacturer numbers
S2LHBLBL, S2LHBLBLB, S2LHBLBLBT, S2LHBLBLT, S2LHBLBO, S2LHBLBOB, S2LHBLBOBT, S2LHBLBOT, S2LHBLCH, S2LHBLCHB, S2LHBLCHBT, S2LHBLCHT, S2LHBLCL, S2LHBLCLB, S2LHBLCLBT, S2LHBLCLT, S2LHBLDO, S2LHBLDOB, S2LHBLDOBT, S2LHBLDOT, S2LHBLEM, S2LHBLEMB, S2LHBLEMBT, S2LHBLEMT, S2LHBLGR, S2LHBLGRB, S2LHBLGRBT, S2LHBLGRT, S2LHBLLO, S2LHBLLOB, S2LHBLLOBT, S2LHBLLOT, S2LHBLMA, S2LHBLMAB, S2LHBLMABT, S2LHBLMAT, S2LHBLMO, S2LHBLMOB, S2LHBLMOBT, S2LHBLMOT, S2LHBLMP, S2LHBLMPB, S2LHBLMPBT, S2LHBLMPT, S2LHBLPT, S2LHBLPTB, S2LHBLPTBT, S2LHBLPTT, S2LHBLPY, S2LHBLPYB, S2LHBLPYBT, S2LHBLPYT, S2LHBLSL, S2LHBLSLB, S2LHBLSLBT, S2LHBLSLT, S2LHBLSN, S2LHBLSNB, S2LHBLSNBT, S2LHBLSNT, S2LHBLTA
, S2LHBLTAB, S2LHBLTABT, S2LHBLTAT, S2LHBLWA, S2LHBLWAB, S2LHBLWABT, S2LHBLWAT, S2LHCLBL, S2LHCLBLB, S2LHCLBLBT, S2LHCLBLT, S2LHCLBO, S2LHCLBOB, S2LHCLBOBT, S2LHCLBOT, S2LHCLCH, S2LHCLCHB, S2LHCLCHBT, S2LHCLCHT, S2LHCLCL, S2LHCLCLB, S2LHCLCLBT, S2LHCLCLT, S2LHCLDO, S2LHCLDOB, S2LHCLDOBT, S2LHCLDOT, S2LHCLEM, S2LHCLEMB, S2LHCLEMBT, S2LHCLEMT, S2LHCLGR, S2LHCLGRB, S2LHCLGRBT, S2LHCLGRT, S2LHCLLO, S2LHCLLOB, S2LHCLLOBT, S2LHCLLOT, S2LHCLMA, S2LHCLMAB, S2LHCLMABT, S2LHCLMAT, S2LHCLMO, S2LHCLMOB, S2LHCLMOBT, S2LHCLMOT, S2LHCLMP, S2LHCLMPB, S2LHCLMPBT, S2LHCLMPT, S2LHCLPT, S2LHCLPTB, S2LHCLPTBT, S2LHCLPTT, S2LHCLPY, S2LHCLPYB, S2LHCLPYBT, S2LHCLPYT, S2LHCLSL, S2LHCLSLB, S2LHCLSLBT, S2LHCLSLT, S2LHCLSN, S2LHCLSNB, S2LHCLSNBT, S2LHCLSNT, S2LHCLTA, S2LHCLTAB, S2LHCLTABT, S2LHCLTAT, S2LHCLWA, S2LHCLWAB, S2LHCLWABT, S2LHCLWAT, S2LHEMBL, S2LHEMBLB, S2LHEMBLBT, S2LHEMBLT, S2LHEMBO, S2LHEMBOB, S2LHEMBOBT, S2LHEMBOT, S2LHEMCH, S2LHEMCHB, S2LHEMCHBT, S2LHEMCHT, S2LHEMCL, S2LHEMCLB, S2LHEMCLBT, S2LHEMCLT, S2LHEMDO, S2LHEMDOB, S2LHEMDOBT, S2LHEMDOT, S2LHEMEM, S2LHEMEMB, S2LHEMEMBT, S2LHEMEMT, S2LHEMGR, S2LHEMGRB, S2LHEMGRBT, S2LHEMGRT, S2LHEMLO, S2LHEMLOB, S2LHEMLOBT, S2LHEMLOT, S2LHEMMA, S2LHEMMAB, S2LHEMMABT, S2LHEMMAT, S2LHEMMO, S2LHEMMOB, S2LHEMMOBT, S2LHEMMOT, S2LHEMMP, S2LHEMMPB, S2LHEMMPBT, S2LHEMMPT, S2LHEMPT, S2LHEMPTB, S2LHEMPTBT, S2LHEMPTT, S2LHEMPY, S2LHEMPYB, S2LHEMPYBT, S2LHEMPYT, S2LHEMSL, S2LHEMSLB, S2LHEMSLBT, S2LHEMSLT, S2LHEMSN, S2LHEMSNB, S2LHEMSNBT, S2LHEMSNT, S2LHEMTA, S2LHEMTAB, S2LHEMTABT, S2LHEMTAT, S2LHEMWA, S2LHEMWAB, S2LHEMWABT, S2LHEMWAT, S2LHGRBL, S2LHGRBLB, S2LHGRBLBT, S2LHGRBLT, S2LHGRBO, S2LHGRBOB, S2LHGRBOBT, S2LHGRBOT, S2LHGRCH, S2LHGRCHB, S2LHGRCHBT, S2LHGRCHT, S2LHGRCL, S2LHGRCLB, S2LHGRCLBT, S2LHGRCLT, S2LHGRDO, S2LHGRDOB, S2LHGRDOBT, S2LHGRDOT, S2LHGREM, S2LHGREMB, S2LHGREMBT, S2LHGREMT, S2LHGRGR, S2LHGRGRB, S2LHGRGRBT, S2LHGRGRT, S2LHGRLO, S2LHGRLOB, S2LHGRLOBT, S2LHGRLOT, S2LHGRMA, S2LHGRMAB, S2LHGRMABT, S2LHGRMAT, S2LHGRMO, S2LHGRMOB, S2LHGRMOBT, S2LHGRMOT, S2LHGRMP, S2LHGRMPB, S2LHGRMPBT, S2LHGRMPT, S2LHGRPT, S2LHGRPTB, S2LHGRPTBT, S2LHGRPTT, S2LHGRPY, S2LHGRPYB, S2LHGRPYBT, S2LHGRPYT, S2LHGRSL, S2LHGRSLB, S2LHGRSLBT, S2LHGRSLT, S2LHGRSN, S2LHGRSNB, S2LHGRSNBT, S2LHGRSNT, S2LHGRTA, S2LHGRTAB, S2LHGRTABT, S2LHGRTAT, S2LHGRWA, S2LHGRWAB, S2LHGRWABT, S2LHGRWAT, S2LHPTBL, S2LHPTBLB, S2LHPTBLBT, S2LHPTBLT, S2LHPTBO, S2LHPTBOB, S2LHPTBOBT, S2LHPTBOT, S2LHPTCH, S2LHPTCHB, S2LHPTCHBT, S2LHPTCHT, S2LHPTCL, S2LHPTCLB, S2LHPTCLBT, S2LHPTCLT, S2LHPTDO, S2LHPTDOB, S2LHPTDOBT, S2LHPTDOT, S2LHPTEM, S2LHPTEMB, S2LHPTEMBT, S2LHPTEMT, S2LHPTGR, S2LHPTGRB, S2LHPTGRBT, S2LHPTGRT, S2LHPTLO, S2LHPTLOB, S2LHPTLOBT, S2LHPTLOT, S2LHPTMA, S2LHPTMAB, S2LHPTMABT, S2LHPTMAT, S2LHPTMO, S2LHPTMOB, S2LHPTMOBT, S2LHPTMOT, S2LHPTMP, S2LHPTMPB, S2LHPTMPBT, S2LHPTMPT, S2LHPTPT, S2LHPTPTB, S2LHPTPTBT, S2LHPTPTT, S2LHPTPY, S2LHPTPYB, S2LHPTPYBT, S2LHPTPYT, S2LHPTSL, S2LHPTSLB, S2LHPTSLBT, S2LHPTSLT, S2LHPTSN, S2LHPTSNB, S2LHPTSNBT, S2LHPTSNT, S2LHPTTA, S2LHPTTAB, S2LHPTTABT, S2LHPTTAT, S2LHPTWA, S2LHPTWAB, S2LHPTWABT, S2LHPTWAT, S2LHPYBL, S2LHPYBLB, S2LHPYBLBT, S2LHPYBLT, S2LHPYBO, S2LHPYBOB, S2LHPYBOBT, S2LHPYBOT, S2LHPYCH, S2LHPYCHB, S2LHPYCHBT, S2LHPYCHT, S2LHPYCL, S2LHPYCLB, S2LHPYCLBT, S2LHPYCLT, S2LHPYDO, S2LHPYDOB, S2LHPYDOBT, S2LHPYDOT, S2LHPYEM, S2LHPYEMB, S2LHPYEMBT, S2LHPYEMT, S2LHPYGR, S2LHPYGRB, S2LHPYGRBT, S2LHPYGRT, S2LHPYLO, S2LHPYLOB, S2LHPYLOBT, S2LHPYLOT, S2LHPYMA, S2LHPYMAB, S2LHPYMABT, S2LHPYMAT, S2LHPYMO, S2LHPYMOB, S2LHPYMOBT, S2LHPYMOT, S2LHPYMP, S2LHPYMPB, S2LHPYMPBT, S2LHPYMPT, S2LHPYPT, S2LHPYPTB, S2LHPYPTBT, S2LHPYPTT, S2LHPYPY, S2LHPYPYB, S2LHPYPYBT, S2LHPYPYT, S2LHPYSL, S2LHPYSLB, S2LHPYSLBT, S2LHPYSLT, S2LHPYSN, S2LHPYSNB, S2LHPYSNBT, S2LHPYSNT, S2LHPYTA, S2LHPYTAB, S2LHPYTABT, S2LHPYTAT, S2LHPYWA, S2LHPYWAB, S2LHPYWABT, S2LHPYWAT, S2LHSLBL, S2LHSLBLB, S2LHSLBLBT, S2LHSLBLT, S2LHSLBO, S2LHSLBOB, S2LHSLBOBT, S2LHSLBOT, S2LHSLCH, S2LHSLCHB, S2LHSLCHBT, S2LHSLCHT, S2LHSLCL, S2LHSLCLB, S2LHSLCLBT, S2LHSLCLT, S2LHSLDO, S2LHSLDOB, S2LHSLDOBT, S2LHSLDOT, S2LHSLEM, S2LHSLEMB, S2LHSLEMBT, S2LHSLEMT, S2LHSLGR, S2LHSLGRB, S2LHSLGRBT, S2LHSLGRT, S2LHSLLO, S2LHSLLOB, S2LHSLLOBT, S2LHSLLOT, S2LHSLMA, S2LHSLMAB, S2LHSLMABT, S2LHSLMAT, S2LHSLMO, S2LHSLMOB, S2LHSLMOBT, S2LHSLMOT, S2LHSLMP, S2LHSLMPB, S2LHSLMPBT, S2LHSLMPT, S2LHSLPT, S2LHSLPTB, S2LHSLPTBT, S2LHSLPTT, S2LHSLPY, S2LHSLPYB, S2LHSLPYBT, S2LHSLPYT, S2LHSLSL, S2LHSLSLB, S2LHSLSLBT, S2LHSLSLT, S2LHSLSN, S2LHSLSNB, S2LHSLSNBT, S2LHSLSNT, S2LHSLTA, S2LHSLTAB, S2LHSLTABT, S2LHSLTAT, S2LHSLWA, S2LHSLWAB, S2LHSLWABT, S2LHSLWAT, S2LHSNBL, S2LHSNBLB, S2LHSNBLBT, S2LHSNBLT, S2LHSNBO, S2LHSNBOB, S2LHSNBOBT, S2LHSNBOT, S2LHSNCH, S2LHSNCHB, S2LHSNCHBT, S2LHSNCHT, S2LHSNCL, S2LHSNCLB, S2LHSNCLBT, S2LHSNCLT, S2LHSNDO, S2LHSNDOB, S2LHSNDOBT, S2LHSNDOT, S2LHSNEM, S2LHSNEMB, S2LHSNEMBT, S2LHSNEMT, S2LHSNGR, S2LHSNGRB, S2LHSNGRBT, S2LHSNGRT, S2LHSNLO, S2LHSNLOB, S2LHSNLOBT, S2LHSNLOT, S2LHSNMA, S2LHSNMAB, S2LHSNMABT, S2LHSNMAT, S2LHSNMO, S2LHSNMOB, S2LHSNMOBT, S2LHSNMOT, S2LHSNMP, S2LHSNMPB, S2LHSNMPBT, S2LHSNMPT, S2LHSNPT, S2LHSNPTB, S2LHSNPTBT, S2LHSNPTT, S2LHSNPY, S2LHSNPYB, S2LHSNPYBT, S2LHSNPYT, S2LHSNSL, S2LHSNSLB, S2LHSNSLBT, S2LHSNSLT, S2LHSNSN, S2LHSNSNB, S2LHSNSNBT, S2LHSNSNT, S2LHSNTA, S2LHSNTAB, S2LHSNTABT, S2LHSNTAT, S2LHSNWA, S2LHSNWAB, S2LHSNWABT, S2LHSNWAT, S2LHTABL, S2LHTABLB, S2LHTABLBT, S2LHTABLT, S2LHTABO, S2LHTABOB, S2LHTABOBT, S2LHTABOT, S2LHTACH, S2LHTACHB, S2LHTACHBT, S2LHTACHT, S2LHTACL, S2LHTACLB, S2LHTACLBT, S2LHTACLT, S2LHTADO, S2LHTADOB, S2LHTADOBT, S2LHTADOT, S2LHTAEM, S2LHTAEMB, S2LHTAEMBT, S2LHTAEMT, S2LHTAGR, S2LHTAGRB, S2LHTAGRBT, S2LHTAGRT, S2LHTALO, S2LHTALOB, S2LHTALOBT, S2LHTALOT, S2LHTAMA, S2LHTAMAB, S2LHTAMABT, S2LHTAMAT, S2LHTAMO, S2LHTAMOB, S2LHTAMOBT, S2LHTAMOT, S2LHTAMP, S2LHTAMPB, S2LHTAMPBT, S2LHTAMPT, S2LHTAPT, S2LHTAPTB, S2LHTAPTBT, S2LHTAPTT, S2LHTAPY, S2LHTAPYB, S2LHTAPYBT, S2LHTAPYT, S2LHTASL, S2LHTASLB, S2LHTASLBT, S2LHTASLT, S2LHTASN, S2LHTASNB, S2LHTASNBT, S2LHTASNT, S2LHTATA, S2LHTATAB, S2LHTATABT, S2LHTATAT, S2LHTAWA, S2LHTAWAB, S2LHTAWABT, S2LHTAWAT
...
Show All