Missed a past Question of the Week? Catch up here or on Facebook and Twitter for all of the #QOTWs!
Your Questions, Real Answers, from Real People.
#QOTW Week 1
Question: What is US Markerboard's 'Question of the Week'? #QOTW
Answer: At US Markerboard we have some pretty unique products, which lead to even more unique questions. Have a question of your own? We want to hear it – and answer it! Submit it below and keep an eye out for the answer in a future #QOTW.
#QOTW Week 2
Question: What is Equivalent to CLARIDGE When Specified?
Answer: Whenever Claridge Products are specified, the reality is we can provide an equivalent product from any number of manufacturers as long as we have the specification. The typical whiteboard, for instance, is e3 Polyvision Porcelain Enamel writing surface on 24 gauge steel, laminated to 7/16″ medium-density fibreboard (MDF), with a .0005 aluminum foil moisture-preventing backer, and T5 Aluminum Framing with full length tray. As long as we can find a vendor able to source those materials, we can provide an equivalent finished product.
As far as a specific alternative manufacturer, you can always spec US Markerboard and we will be able to provide exactly what you need: whiteboards, glassboards, display cases and so much more.
#QOTW Week 3
Question: How are the Floor to Ceiling Whiteboards attached to the wall?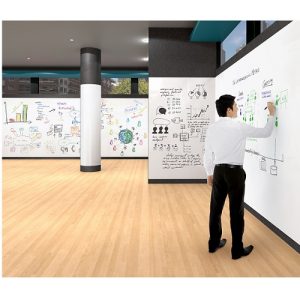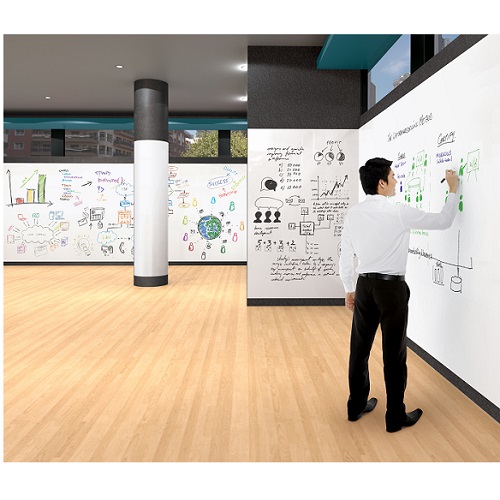 Answer: Floor to ceiling whiteboards follow the typical installation: mount the trim (called j-trim) directly to the wall. It has a higher back than front to allow mounting at any point, then place the panels inside the trim, outside panels first, followed by interior panels, using the provided aluminum splines to join each panel. It is recommended to use a panel adhesive on the wall/panels that will set in 60 minutes to provide extra stability and prevention against warping due to gravity.
Any time you request a floor to ceiling system, we ask you for the finished outside dimensions you would like, the trim will match those dimensions, and the panels will be cut just slightly to allow for clean installation.
For further explanation, here is a great video on installing Floor to Ceiling Whiteboards: https://www.youtube.com/watch?v=B1bHEC1lOLY
#QOTW Week 4
Question: Is it possible to get a 72"H x 110"W Whiteboard in one piece?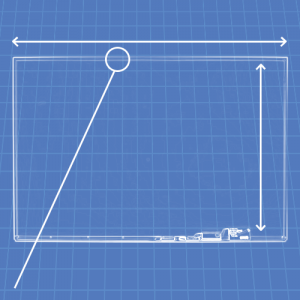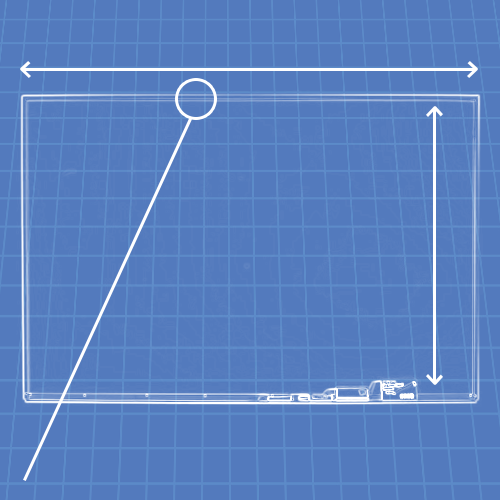 Answer: Traditional whiteboards are not available in such a large size as a single piece as they rely on materials limited to 60", meaning you can't have both height and width of a single piece whiteboard be larger than 60". The good news though is that glass boards do not have a 60" limitation. You can get up to 74" x 142" glass boards made in one piece using our Arrow Glassworks GlassBoards; however, the size of the glass requires a steel backing to provide support, and the nature of glass boards is such that they are currently a bit more expensive than traditional whiteboards.That being said, if your primary concern is a seamless appearance, either as a writing or projection surface, we can do it!
As always, we simply ask that you make sure you can fit such a large object into your space, and be aware that a 72" x 110" magnetic glass board will weigh north of 300 lbs. Perhaps if interested in a very large glass board, consider our White Glove Service as a complementary piece of your quote/order.
#QOTW Week 5
Question: Can we cut chalkboard sheets ourselves? If so, how do we do so?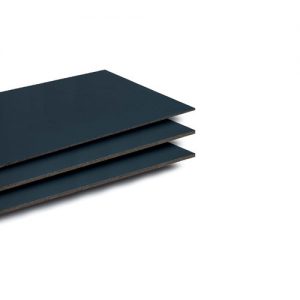 Answer: We get asked this question quite often. First, whenever possible, it's always best to order the custom size you need from us. Your board will be manufactured on large cutting tables with pinpoint accuracy. That said, if you need to cut your board down in size you will want to use a radial saw with a brand new carbide paneling or small tooth blade on it. I can't guarantee that you won't end up with a few rough spots, but it's the best result for an "in the field" modification.