Weather Sentinel Outdoor Bulletin Board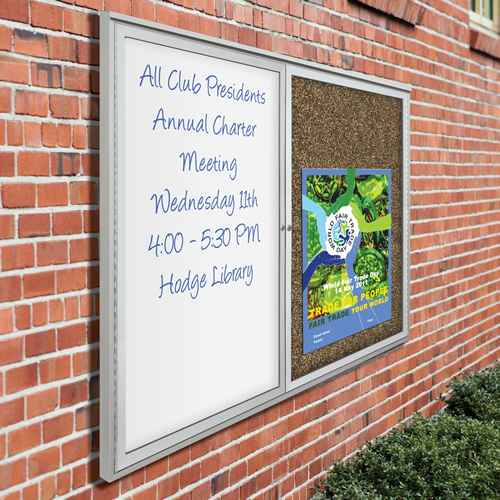 Product Overview
DESCRIPTION

Display and protect your items from the sun and rain with a Weather Sentinel outdoor enclosed bulletin board cabinetOutdoor Enclosed Letter Board. Your documents and information will remain secure behind the lockable hinged doors and safe from UV rays and water. Support your troops by purchasing this product that is proudly made in the USA.
FEATURES

Available in top or side hinge set-up with either single or double door configuration
Top-mounted drip rail, weather stripping on door openings and silicone sealed galvanized steel back protect from moisture
Anodized aluminum steel trim and a moisure-resistant Rubber-Tak back panel. Also available with a a half Rubber-Tak and half porcelain steel dry erase back panel.
Made in the USA.
Can also be used indoors.