Enlighten™ Black Glass Dry Erase Whiteboard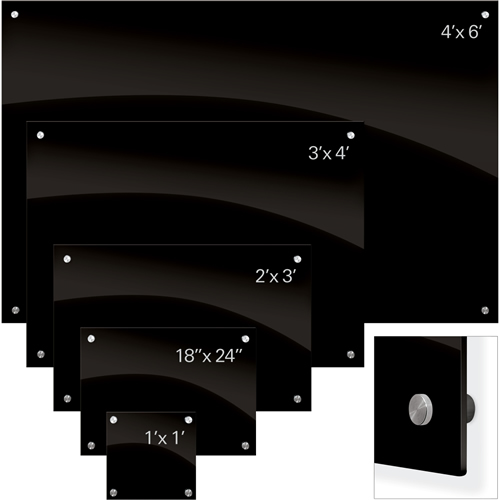 Transform your conference room or office with the Enlighten™ Black Glass Dry Erase Markerboard, a sophisticated, sleek writing surface. Its special finish provides a smooth writing surface that will not ghost or stain. Durable tempered glass accepts dry/wet-erase markers,... Read More
Product Overview
DESCRIPTION

Transform your conference room or office with the Enlighten™ Black Glass Dry Erase Markerboard, a sophisticated, sleek writing surface. Its special finish provides a smooth writing surface that will not ghost or stain. Durable tempered glass accepts dry/wet-erase markers, grease pens, ect. For best results on black surface use white or florescent markers (included). Stylish stainless steel standoffs mount the glass whiteboard 1" off the wall, adding depth and dimension.
FEATURES

Markerboard Features:

1/8" tempered glass
Does not accept magnets
Accepts Dry/Wet-Erase markers, grease pens, etc.
Best results on black surface use white or fluorescent markers (included)
Stainless steel standoff mounts
Mounts lift board 1" off the wall, adding depth and dimension
Special surface finish is ghost and stain proof
Customer Questions
What Is Involved In Installation?

Installation is fairly simple with 2 people: Hold the board up to the wall to mark the hole locations, pre-drill holes and insert wall anchor (we recommend hollow wall anchors), mount the base of the standoff, then finally hold the board up and screw in the standoff bolt through the holes in the board. Installation should take under an hour for 1 board.

OFFICIAL US MARKERBOARD RESPONSE

Answered By sam on Jan 29th, 2018
Customer Reviews
Do You Own This Product?
Be the first one to leave a review and let our customers know about your experiences with this product.