Enclosed Indoor Bulletin Boards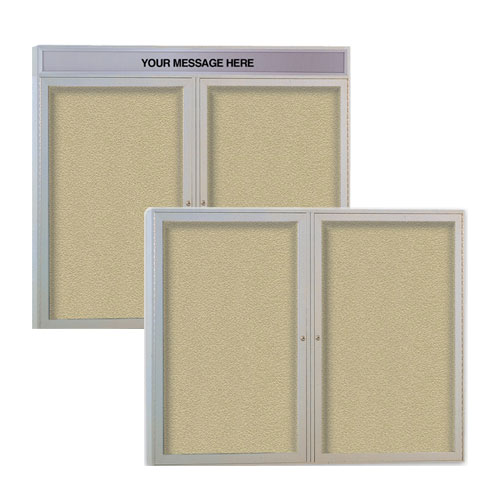 This Enclosed Indoor Bulletin Board protects and displays your important information and documents for all the world to see. The lockable hinged doors feature shatter-resistant acrylic to keep your display clean, secure, and undisturbed. In addition, the resilient natural cork... Read More
Product Overview
DESCRIPTION

This Enclosed Indoor Bulletin Board protects and displays your important information and documents for all the world to see. The lockable hinged doors feature shatter-resistant acrylic to keep your display clean, secure, and undisturbed. In addition, the resilient natural cork posting surface self-heals from pin and tack holes.
FEATURES

THIS PRODUCT IS NON-RETURNABLE/NON-REFUNDABLE
Exterior case depth: 2-1/4".
Interior case depth is 7/8".
Acrylic Glass Thickness: 1/8".
Self supporting doors with continuous hinges.
Tumble locks with keys.
Vinyl PremaTak surface retains resiliency and features a fabric backing for added durability.
6" high white header panel with lighting
Standard lettering on header is in uppercase, helvetica-style black font and is sized and centered depending on requested name
Lighting system includes U.L. Listed fluorescent fixture, bulb, and a three wire electrical lead
Available in many different Frame Finishes .
Dimensions: Exterior - (Interior Space):

24"H x 18"W (22-5/8"H x 16-5/8"W)
36"H x 24"W (34-5/8"H x 22-5/8"W)
36"H x 30"W (34-5/8"H x 28-5/8"W)
36"H x 36"W (34-5/8"H x 34-5/8"W)
36"H x 48"W (34-5/8"H x 46-5/8"W)
36"H x 60"W (34-5/8"H x 58-5/8"W)
48"H x 60"W (46-5/8"H x 58-5/8"W)
36"H x 72"W (34-5/8"H x 70-5/8"W)
48"H x 72"W (46-5/8"H x 70-5/8"W)
48"H x 96"W (46-5/8"H x 94-5/8"W)
Customer Questions
Got a Question?
Be the first one to ask us a question about this product.
Customer Reviews
Do You Own This Product?
Be the first one to leave a review and let our customers know about your experiences with this product.