Single and Double Door Corkboard Message Centers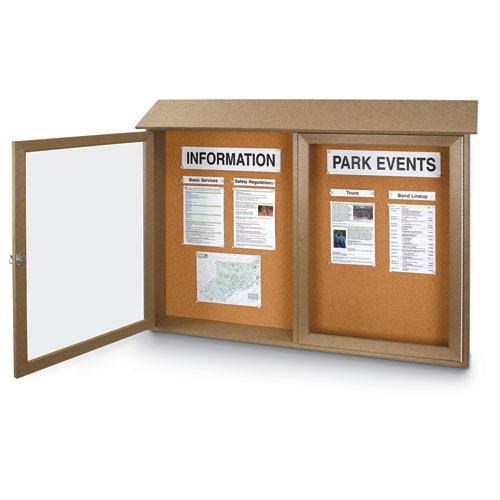 Product Overview
DESCRIPTION

Protect important announcements from extreme weather with these Outdoor Enclosed Letter Boards.
FEATURES

Case Dimensions:

3/4"W Main Frame
1-1/2"W Door Frame
5-1/2" Exterior Depth
3-3/4" Interior Depth
8-1/2" Rain Cover Depth

1/8" shatter resistant acrylic glass.
Features a natural self-sealing cork surface.
Single door boards have a lockable door that is side-mounted on a full-length piano hinge. Double door boards have two lockable doors that are mounted on a full-length piano hinge.
The recycled plastic lumber construction prevents these boards from rotting, splintering, or cracking, and ensures durability for years to come.
Comes with a finished back panel.
Looks great on posts (sold separately).
Includes a lock and a removable interior surface.
Product Specifications
Brand

United Visual Products, Inc.