Premiere® Microscope Accessories and Replacement Parts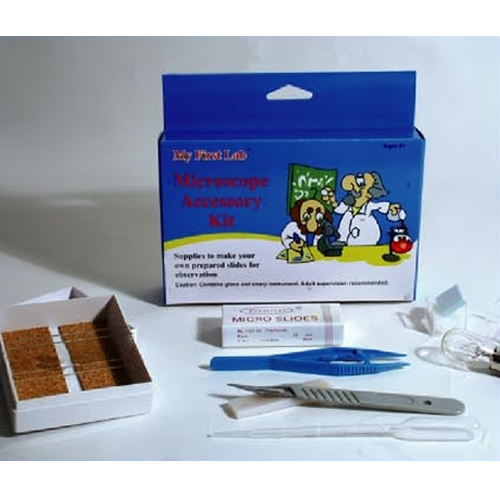 Product Overview
DESCRIPTION

The Microscope Accessory Kit is perfect for purchase with the My First Lab™ Microscope; it contains supplies for you to make your own simple prepared slides, including twelve plain slides, two concavity slides, cover glass, forceps, a scalpel, a plastic dropper, a plastic slide box to hold 25 slides, and a spare bulb for the MFL-02 My First Lab™ Microscope. Directions and helpful hints for preparing simple mounts are also included.::A nylon carrying case for microscopes is available. Featuring easy fitting adjustable straps on the inside, this case can accommodate most microscope models. The case has heavy-duty carrying straps and a zip-down side. Its separate inner liner provides protection and support.::A number of replacement parts for Premiere® microscopes are available as well. Choose from halogen, tungsten, or fluorescent replacement bulbs; lens paper; cedar wood immersion oil; or resolve immersion oil (low and high viscosity available).
FEATURES

Microscope Accessory Kit:

For use with MFL-02 My First Lab™ Microscope.
12 plain slides, 2 concavity slides, cover glass.
Forceps, scalpel, plastic dropper.
Plastic slide box to hold 25 slides.
Spare bulb for MFL-02.

Nylon Carrying Case:

Heavy duty straps and zip down sides.
Separate inner liner provides support.
Easy fitting inside straps adjust to secure most models.
12"W x 8"D x 18"H.

Mechanical Stage:

Allows smooth and easy adjustment of slides.
Moves left and right, backward and forward during observation.
Compatible with MS model microscopes.

Immersion Oils:

MA06: Cedar Wood Oil, 2 ml.
MA56: Resolve Oil, Low viscosity; 15 ml
MA57: Resolve Oil, High viscosity; 15 ml

Lens Paper:

MA02: 4" x 6", 100 sheets
MA50: 4" x 6", 50 sheets
MA86: 6" x 8", 100 sheets

Replacement Bulbs:

MA07: Halogen, 20W.
MA08: Halogen, 15W.
MA09: Tungsten, 20W.
MA13: Tungsten, 15W.
MA68: Fluorescent, 5W.
MA69: Halogen, 10W.
Customer Questions
Got a Question?
Be the first one to ask us a question about this product.
Customer Reviews
Do You Own This Product?
Be the first one to leave a review and let our customers know about your experiences with this product.