Premiere® MS-03 Student Microscope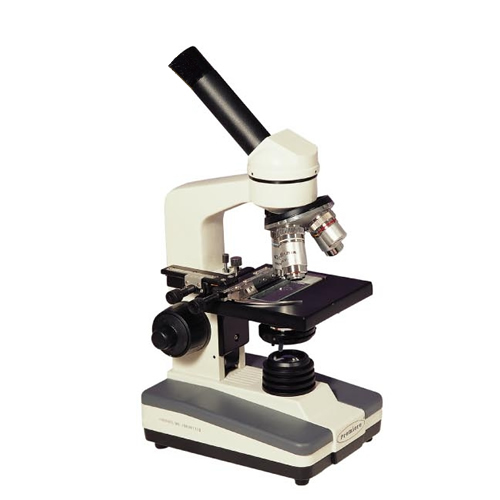 Product Overview
DESCRIPTION

The MS-03 Student Microscope is equipped with four DIN objectives, including a 100X oil immersion objective, and comes standard with a mechanical stage slide holder for a full-featured, reliable instrument at a fraction of the cost of professional microscopes.::A model is available with an LED light system. It features a variable intensity 5.5V LED cool lighting system and a built-in rechargeable battery with detachable AC power cord. The LED model consumes very little power, and the rechargeable battery provides up to 15 hours of normal use. Because it is battery-powered, it is also easily portable.
FEATURES

Monocular head rotatable 360°.
Features a 10X eyepiece with scale pointer.
Four DIN Achromatic parfocal and parcentered objectives: 4X, 10X, 40XR, and 100XR (oil).
Total magnification: 40X - 1000X.
Features coarse and fine focus controls.
Features a spiral condenser N.A. 1.25 with Iris diaphragm.
Standard model includes 20W tungsten lamp, cordless LED model includes 5.5V LED lamp.
Includes vinyl dust cover, spare bulb, and immersion oil.
Product Specifications
Brand

CA Scientific Co., Inc.