Modular Calendar Board Replacement Boards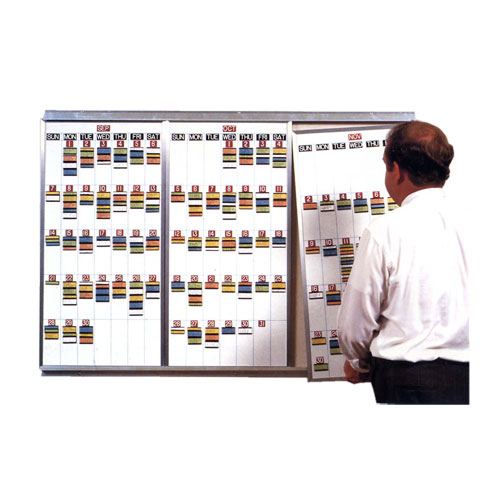 Product Overview
DESCRIPTION

Modular system is the most efficient way to manage month by month planning. Rotating Boards keep the calendar current and in sequence with minimal effort. Just remove the left-side board at the end of the month and slide the others to the left. Then put the out-of-date board back in the system at the right and set up for the following month. Color-code information and rearrange it quickly using data cards and magnetic cardholders. The components included are: magnetic month, day, and dates; data cards in 5 colors; magnetic cardholders in 2 sizes.
FEATURES

Modular design for easy updating at the end of each month
Magnetic write-on/wipe-off porcelain board with aluminum frame
Rotating design permits a perpetual planning system
1000 Data Cards come in equal amounts of two sizes - 1" x 2" + 1/2" x 2". Cardholders come in equal amounts of each size
Prices are per board. 3 boards shown in image

Track Sold Seperately. See Related Products.