Mobile Storage Islands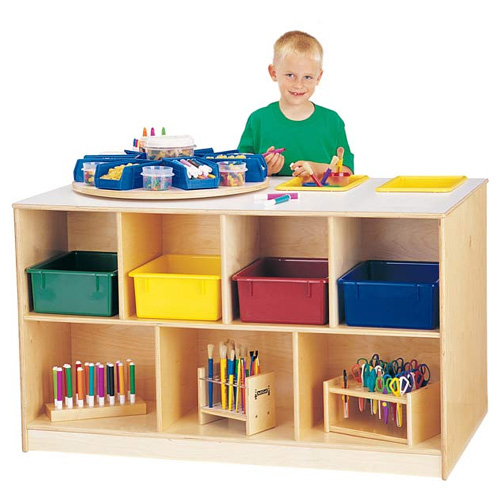 Product Overview
DESCRIPTION

The standard island provides double-sided storage and an E-Z to clean worktop all in one. One side features three roomy shelves, 46-1/2"W x 14"D x 7-1/2"H. The other side features two shelves, 18"W x 14"D x 12"H, and twelve cubbies. The twin island includes two cubby tray cutouts and trays with lids allow tabletop art projects, experiments, or storage. One side features ten optional cubby trays and shelves. Seven shelves and four optional tubs are on the other side.
FEATURES

Two-sided storage units, available with or without tubs.
Easy to clean white laminate worktop.
Standard cubby tray colors are red, blue, yellow, green or orange.
Mobile, caster mounted.
KYDZStrong construction, KYDZSafe edges, KYDZTuff finish.
Lifetime warranty.