Horizon™ Magnetic Glass Dry-Erase Board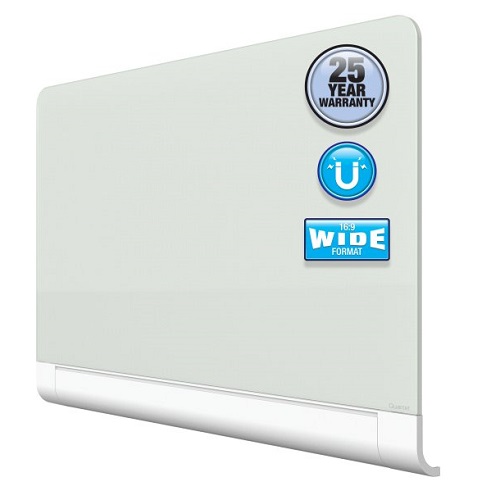 Horizon™ Magnetic Glass Dry-Erase Board features a frameless design and concealed tray to match the needs and décor of a contemporary office. The white glass board surface offers classic dry-erase functionality, and the unique accessory tray folds closed for neater... Read More
Product Overview
DESCRIPTION

Horizon™ Magnetic Glass Dry-Erase Board features a frameless design and concealed tray to match the needs and décor of a contemporary office. The white glass board surface offers classic dry-erase functionality, and the unique accessory tray folds closed for neater storage. Plus, invisible mounting gives the board the appearance of it floating on the wall.

Glass Board Surface
White glass dry-erase board is sleek and clean, delivering an upscale look that is contemporary and in line with the décor of today's office spaces. The glass is tempered for extra durability and is stain and ghost resistant for superior erasability. It is also extremely easy to clean using whiteboard cleaning supplies.

Invisible Mounting System
The minimalistic streamlined look is due to the invisible mount design. This innovative new feature keeps all the mounting harddware out of sight behind the board. The result is a clean sheet of glass that is completely unobstructed and appears to float on the wall.

Frameless with Hidden Tray
One of a kind board is frameless, with no sharp edges. The corners of the board are rounded for a curved look htat is soft and sleek at the same time. Plus, the concealed tray is the perfect solution for managing board accessories. Markers and erasers are always on hand, and the tray folds closed when you're done for convenient storage that keeps the board looking neat and clean.

Ease of Use
A glass dry-erase board has all the same qualities as other whiteboards. Dry-erase markers glide easily across the glass for smooth writing, and because the glass is white, your messages are always easy to read. It is also magnetic and using rare earth magnets, you can easily hang printed items for review.
FEATURES

Glass is magnetic and offers a smooth writing surface. Use with dry erase markers and rare earth magnets to write messages and post papers
Frameless board design has a soft appearance with rounded corners at the top
Wide format size to match 16:9 aspect ratio projection screens and televisions
Writing in all colors is easily visible on the white glass board surface. Glass is easy to keep clean
Invisible mount with hidden hardware maximizes usable board space and gives the marker board a floating appearance on the wall. Includes template for mounting
Concealed tray can keep markers, erasers and more out of sight when board is not in use. Folds open and close to access or conceal items with ease
Comes with 1 dry erase marker and 2 round magnets
25 Year Warranty
Customer Questions
Got a Question?
Be the first one to ask us a question about this product.
Customer Reviews
Do You Own This Product?
Be the first one to leave a review and let our customers know about your experiences with this product.