Fusion Nano-Clean™ Magnetic Whiteboard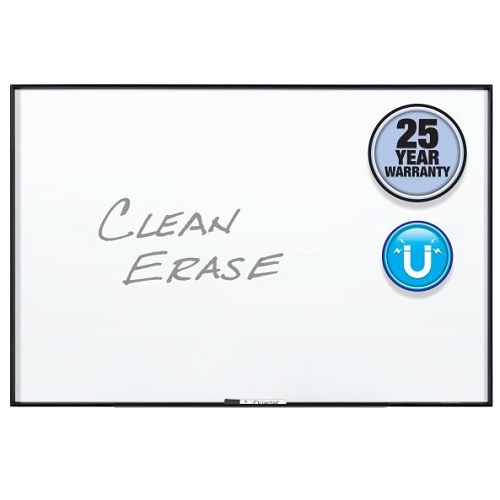 Product Overview
DESCRIPTION

Incorporating the latest cutting-edge science, this innovative new whiteboard surface uses nanotechnology to prevent ink from penetrating the surface. A hydrophobic Nano-Clean™ surface coating delivers exceptional ghost and stain resistance for superior erasability.

Nanotechnology is science, engineering and technology conducted at the nanoscale - a nanometer is one-billionth of a meter. By developing a whiteboard surface at this level it is possible to create a board that is completely resistant to ink penetration. Fusion Nano-Clean™ Whiteboards are easier to maintain and erase because nanoparticles fill the voids on the whiteboard to keep the ink on top, never sinking in, to prevent ghosting or staining. It is a perfect dry-erase solution for your office, able to withstand heavy use and backed by a 25 year manufacturer warranty.
FEATURES

Experience a new dry-erase solution with the Fusion Nano-Clean™ Whiteboard, this one of a kind surface is sealed at the nano level
Features a 25 year warranty and is able to deliver top notch performance in extremely heavy use environments
Protected by Nano-Clean™ technology. Nano-particles fill voids on the board surface to prevent ink from staining of ghosting for an always Nano-Clean™ whiteboard
Whiteboard surface is magnetic to offer equal functionality for smooth writing and posting of printed materials. Board surface is recessed from the frame to deliver a fresh, clean look
Whiteboard can be mounted horizontally or vertically with included Z-bracket mounting hardware. Marker tray and 1 dry-erase marker also included.
Customer Questions
Got a Question?
Be the first one to ask us a question about this product.
Customer Reviews
Do You Own This Product?
Be the first one to leave a review and let our customers know about your experiences with this product.