Vantage Floor to Ceiling Whiteboards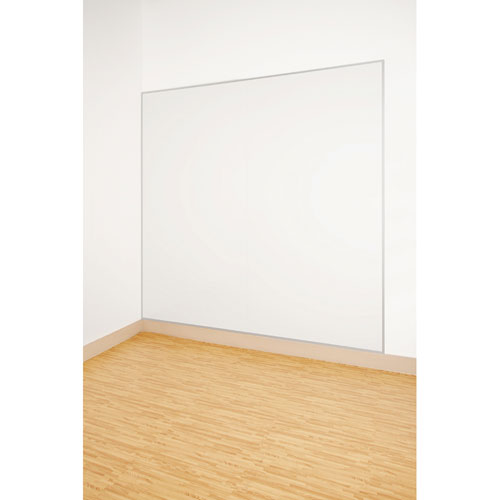 Think Big! Our own big league thinkers created this system for visual communication without limits. We design and manufacture oversized panels to be joined together using a concealed stabilizing spline, creating a smooth transition from panel to panel. Sizes range from 6ft high... Read More
Product Overview
DESCRIPTION

Think Big! Our own big league thinkers created this system for visual communication without limits. We design and manufacture oversized panels to be joined together using a concealed stabilizing spline, creating a smooth transition from panel to panel. Sizes range from 6' high by 8' wide, up to a massive 12' high by 24' wide wall system. Our team can also custom design and manufacture panels to fit any size room.
FEATURES

Porcelain Steel Magnetic writing surface
Lifetime warranty on writing surface
Trim and Spline joints included
1/2" Core with Aluminum backing sheet
Aluminum frame with 3/4" face
Panels come in sizes up to 4' x 12' and are joined with a concealed spline butt joint
Custom Sizes available
Environmental Certificate - SCS Certified - Indoor Advantage Gold
Can be designed to fit any room
Made in USA
Customer Questions
How Is This Board Attached To The Wall.

Hi Sue,

Our floor to ceiling whiteboards are fairly easily to install. The unit comes with aluminum trim, which is shaped like a capital J, with the back part slightly higher than the front part. The back part of the trim is the entry point for mounting screws that can be located anywhere along the trim in order to hit wall studs. Place the panels inside the trim, outside panels first, followed by middle panels, using the provided aluminum splines to join each panel. It is recommended to use a panel adhesive on the wall/panels that will set in 60 minutes to provide extra stability and prevent against warping due to gravity.

Any time you request a floor to ceiling system, we ask you for the finished outside dimensions you would like, the trim will match those dimensions, and the panels will be cut just slightly less to allow for clean installation.

For further explanation, here is a great video on installing Floor to Ceiling Whiteboards: How to Install Floor to Ceiling Whiteboards

OFFICIAL US MARKERBOARD RESPONSE

Answered By Brian H on Feb 19th, 2018
Customer Reviews
Do You Own This Product?
Be the first one to leave a review and let our customers know about your experiences with this product.