First Aid Kits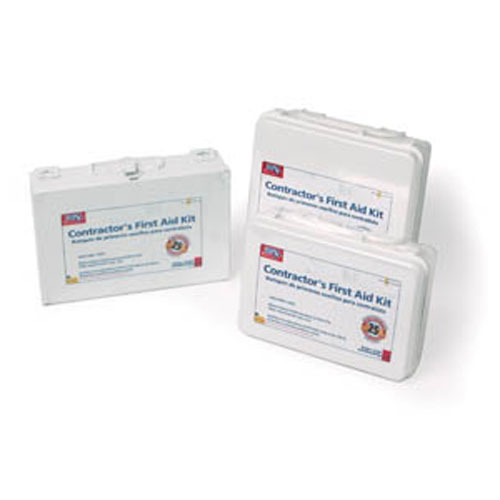 Product Overview
DESCRIPTION

Keep your establishment prepared with these first aid kits.
FEATURES

Meets Federal OSHA Regulation 1910.1516.
Includes all 8 required items to meet ANSI Standard Z308.1-2003:

At least one absorbent compress, 32 sq. in. (81.3 sq. cm.) with no side smaller than 4 in. (10 cm).
At least 16 adhesive bandages, 1 in. x 3 in. (2.5 cm x 7.5 cm).
One roll of adhesive tape, 5 yd. (457.2 cm) total.
At least ten packets of antiseptic, 0.5g (0.14 fl oz.) applications.
At least six applications of burn treatments, 0.5 g (0.14 fl. oz.).
Two or more pairs of medical exam gloves (latex or non-latex).
At least four sterile pads, 3 in. x 3 in. (7.5 x 7.5 cm).
One triangular bandage, 40 in. x 40 in. x 56 in.

There is a $5.00 charge for all Royal Industries orders under $75.00 added to shipping at checkout.
Product Specifications
Brand

Royal Industries, Inc.