Clamps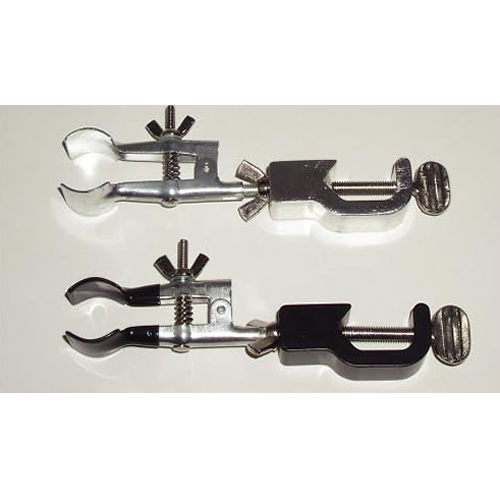 The Knife Edge Lever Clamp is well-constructed and fits standard meter sticks; it's used in setting up a demonstration balance to study the principles of levers, torque, etc. It can also be used to suspend weights from the stirrup.::The Thermometer Clamp is a great tool for... Read More
Product Overview
DESCRIPTION

The Knife Edge Lever Clamp is well-constructed and fits standard meter sticks; it's used in setting up a demonstration balance to study the principles of levers, torque, etc. It can also be used to suspend weights from the stirrup.::The Thermometer Clamp is a great tool for holding a thermometer so it doesn't have to rest on the bottom of a container. It's 360?? rotatable and has an adjustable jaw.::The Hoffman Clamp is an open jaw, nickel-plated clamp for flexible rubber tubing up to 1/2" diameter. It regulates the flow from fully open to closed, and the lower jaw has a swivel-mount for easy insertion of tubing without disconnecting apparatus.::The Mohr Pinchcock Clamp is made of a heavy nickel-plated brass, providing a flat clamping surface for plastic tubing up to 1/2" diameter.::Burette Clamps have a round jaw that will gently hold a burette and lock at any angle. The single jaw opens approximately 3/8" to 1-3/4" and is rotatable 360??.::The Double Burette Clamp can accommodate a burette at both ends. It holds burettes gently without blocking their markings.::The Lincoln Type Burette Clamp is an economy style double burette clamp that holds two burettes in self-closing jaws.::Clamp Holders hold rods up to 3/4" in diameter. The one-piece clamp holder has a fixed jaw angle.
FEATURES

Knife Edge Lever Clamp: fits a standard meter stick, used to set up demonstrations of physics principles.
Thermometer Clamp: Overall length 6-3/8"; holds thermometer off bottom of container.
Hoffman Clamp: 3 pieces/pack. Open jaw clamp for flexible rubber tubing up to 1/2" diameter.
Mohr Pinchcock Clamp: 5 pieces/pack. Clamps plastic tubing up to 1/2" diameter.
Burette Clamps: Overall length 6.5"; choose plain or plastic-coated jaw; holds burettes and locks at any angle.
Double Burette Clamp: holds two burettes without blocking markings.
Lincoln Type Burette Clamp: economy double burette clamp with self closing jaws.
Clamp Holders: choose from cast iron or aluminum, holds rods up to 3/4" diameter.
Customer Questions
Got a Question?
Be the first one to ask us a question about this product.
Customer Reviews
Do You Own This Product?
Be the first one to leave a review and let our customers know about your experiences with this product.