Carrying Cases, Covers, Cables, Clock Timers, and Brackets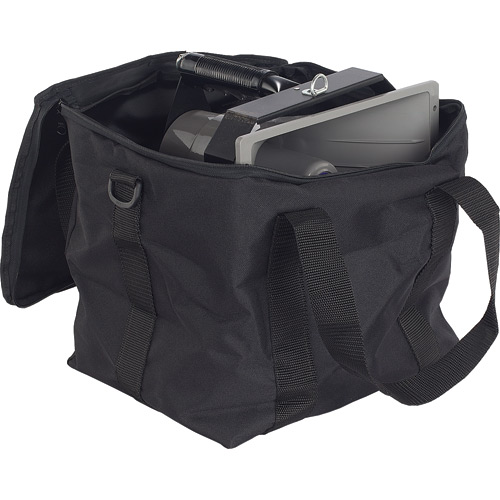 A variety of different carrying cases, covers, cables, and brackets are available for purchase with any AmpliVox audio system or lectern. Also available is a clock timer. Read More
Product Overview
DESCRIPTION

A variety of different carrying cases, covers, cables, and brackets are available for purchase with any AmpliVox audio system or lectern. Also available is a clock timer.
FEATURES

S1920 Tripod Case: Rugged reinforced nylon; 49"L x 9.75"W x 5"D.
S1930 Combo: Has an S1920 Tripod Case and an S1960 Universal Carrying Case.
S1940 Half-Mile Hailer Case: Rugged reinforced nylon for S/SW610A, S1260, S1262, S1264, or S1265.
S1950 Tripod Case: Soft carrying case; holds three S1090 Tripods.
S1960 Universal Carrying Case: Reinforced nylon with storage pocket for 3 compact tripods; has wheels and extendable luggage handle; 27.5" x 10.5" x 15".
S1962 XL-Heavy Duty Case: For heavy duty tripods and custom kits; 36.25"L x 12.5"W x 17.25"D.
S1970 Lectern Protective Cover: Water resistant brown vinyl with zipper; fits 24"W x 24"D x 27"H.
S1995 Digital Audio Travel Partner Protective Cover: Weather resistant black vinyl cover.
S1992 Pelican Case: 31.5" x 22.875" x 18.875" watertight and crush-proof rolling case for 905 Series.
S1300 Mounting Bracket: Attaches S805A/SW805A amplifier to lectern with 4 screws; amplifier slides into bracket, one screw holds amp in place.
S1320 Clock Timer: Electronic display, counts down then up; alarm.
S1321 Clip-On Clock Timer: Clips on to surfaces; electronic display, counts down then up; alarm.
S1720 Dynamic Mic Cable: 25' extension with 1/4" male/female in-line jack.
S1750 Condenser Mic Cable: 12' extension cable - 1/8" male to 1/8" female.
S1780 Speaker Cable: 40' speaker cable 1/4" male to 1/4" angled male.
Customer Questions
Got a Question?
Be the first one to ask us a question about this product.
Customer Reviews
Do You Own This Product?
Be the first one to leave a review and let our customers know about your experiences with this product.