4 Student Science Lab Workstation with Assorted Fixtures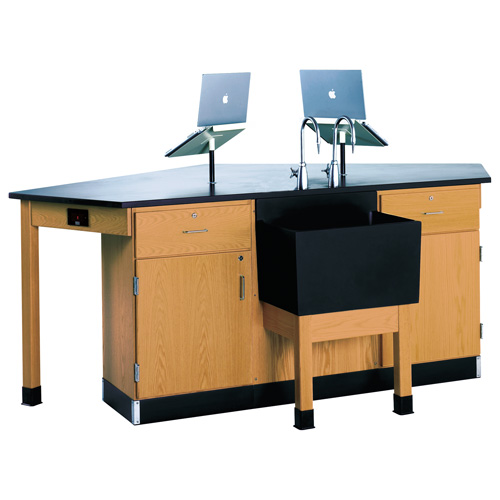 Product Overview
DESCRIPTION

This classroom-oriented Student Science Table and Workstation enables four students to work at a single station as they all face the teacher. The countertop surface is 1" epoxy resin and resists the heat and harmful chemicals that can do damage during science class. Available lab fixtures and additions including a sink, water-gas fixtures, laptop holders, and more. In addition, these tables feature two cabinet storage spaces that you can access through your choice of locking doors, or with a locking door-drawer combination (pictured). Buy this Science Table and Lab Workstation Combo and give students all the storage, workspace and equipment they need in one convenient place.
FEATURES

Overall Dimensions: 96"W x 50"D x 36"H
Product Image is Front View of 2936KLH
The unique design leaves enough room to store four stools (not included) under the workstation.
The 2946K and 2956K models each have one 12" x 8" x 6"D epoxy Drop-In sink built into the table surface
The 2916K, 2916KLH, 2936K and 2936KLH feature a large epoxy End Sink that comes off the front of the table and measures 22-3/8" x 15" x 17"D
All the units come with two GFI electrical outlets, ample storage and 1" solid epoxy resin work surface
The 2916KLH and 2936KLH also include two rod sockets and LabHands for holding laptop computers and books
Sink units come with two combination water/gas fixtures
Choose from two models of cabinets: Door cabinet with two adjustable shelves or the door/drawer cabinet with one adjustable shelf and a drawer. All doors and drawers lock.
Product Specifications
Brand

Diversified Woodcrafts