Unframed Whiteboard Material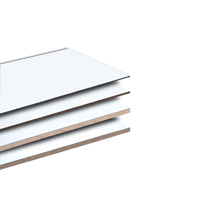 Porcelain Steel Skin: 28 ga. Writing surface with no MDF substrate
1/2" Porcelain Material: 28 ga. Porcelain Steel surface
Non-Magnetic material: Melamine on substrate (either 1/4" or 1/8")
Choose from Magnetic or Non-Magnetic Sheet Material and Magnetic Skins
Unframed Boards are cut and designed to be framed. Edges will be rough. Cut Sheet Material has an edge tolerance of (+ or -) 1/4"...
$18.99 - $569.99

(1)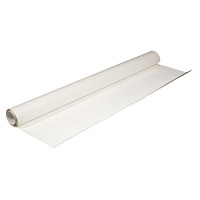 Self-adhesive backing, no need for messy glues.
The glossy white surface is intended solely as a writing surface, but will accept Magnets when resurfacing an existing Magnetic Bo...
Sold in 48" rolls and is easily cut to fit any existing surface.
$186.99 - $2,281.99

(1)
Magnetic, porcelain writing surface for high-visibility and added versatility with presentations
50 year warranty on writing surface for peace of mind and confidence in your board
Concealed installation Z-bars for a truly frameless look

$319.99 - $531.99

(2)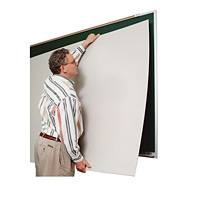 Forget about glue and contact adhesives - simply remove the protective sheet and mount the skin onto an existing board
Attention: Self-Adhesive Skins will not properly adhere to textured surfaces.
Skins are crafted from 24-gauge steel with a furnace-fused surface for extra strength and durability
Available in markerboard and chalkboard surfaces to fit the way you write
Choose from several different widths to fit over almost any board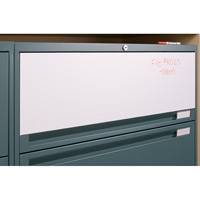 Purchase by square feet.
1-6 sq. ft. come in packs of 10.
This item can be customized in many ways beyond the options listed on this page, please call for more information.
ATTENTION: Please note that Egan products may not be returned unless defective.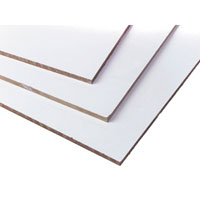 Panels feature smooth porcelain steel surface mounted to 1/4" Medium Density Fiberboard (MDF) for strength and stability
MDF resists moisture 14% better than standard particle board for clean, stable writing surface
Choose from different widths to fit over your unique wall space or existing board
Panel adhesive and panel roller also available for quick, easy installation
2H2X: Available in custom sizes call for details.
Available in almost any size or shape!
Customized to fit your needs and specifications!
Don't see what you need? Call 800-791-2946 and a Customer Service Representative will be happy to assist you.
Great for hospitals, businesses, schools, and universities!
Call for more options.
Ideal for meeting rooms, training rooms, classrooms
Combines projection and dry-erase capabilities
Can be field cut during installation for switches and other knockouts
Rolls 36" High - Up to 7' Long and may be slit horizontally for custom applications
Variety of marker trays available

Two product lines available: VersaPRO-H and VersaPRO-G
Great projection screen and guaranteed-to-clean markerboard combination
EganINK compatible to make your unique project even more meaningful
VersaPRO requires professional installation
The installer is an independent contractor that you can engage directly for your project and they will warrant your installation d...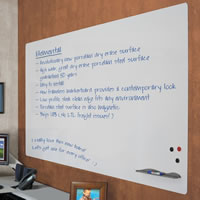 Elemental Frameless Whiteboards give off an air of sophistication and simplicity:Magnetic surfaces increase presentation versatili...


Restore a stained or worn board with ready-to-install panels:Porcelain-on-steel panels are magnetic and boast a high-contrast surf...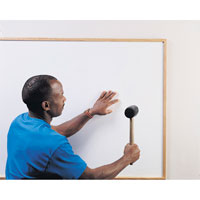 Features Magnetic Whiteboard surface.
Whiteboard Sheets come with a special installation tool that safely protects the exposed metal edges while making resurfacing fast...
Resurfacing sheets are individually packed for safe transit and easy on-site handling. The unique packaging design eliminates the ...
Choose from 5 sizes to fit your wall or board
These skins are considered custom and are therefore non-returnable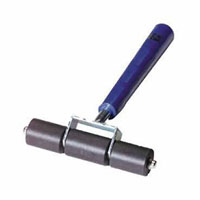 Panel Adhesive - 4 Tubes
Panel Roller
Installation Instructions:Thoroughly clean old surfaceTest fit panelApply adhesive in egg sized globs spaced every 12" to 16" apar...

Unframed Whiteboard Material
At US Markerboard we have a full section of unframed whiteboards for many different applications. Choose from our pre-adhesive panels to adhere directly to your wall or cover over your chalkboard. The unframed whiteboards and dry erase panels come in a variety of thicknesses for most any application and if you require a specific thickness, please let us know, we will work to accommodate the specifications of the project.
Re-surface your old markerboard, convert a chalkboard or wall into a dry erase surface, or fit a custom sizes into a specific space, US Markerboard has the unframed board that is perfect for your application. We sell writable dry erase self-adhesive skins, porcelain steel panels, replacement dry erase vinyl, and markerboard wall coverings. Custom sizes and colored graphics are our specialty. They're easy to install on your desired surface and best of all, they don't leave behind an unmanageable mess. Choose the material that suits you and turn your wall or board into your ideal dry erase writing surface.