Portable Interactive Whiteboards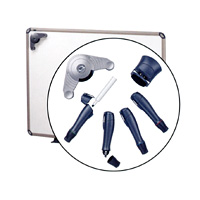 Print, share or save data to a PC or Mac (with Palm OS).
Turns boards into a touch-sensitive computer using an LCD projector.
Includes modern design lightweight receiver, multiple mounting systems, electronic pens, Dry-Erase Markers, electronic eraser, sty...
Quartet® Portable IdeaShare® Carrying Case is specially designed to hold components for your Portable IdeaShare® Interactive White...
Comfortable to carry and durable enough to protect your components
Must be ordered in multiples of 6.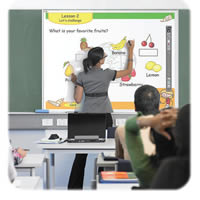 Features:
Included Accessories:Digital Pen (1)Stylus for digital pen (1)1.5v AAA alkali battery (1)Markers (Black and Red)ErasersCarrying ca...
Projection Area Size:
External Dimensions:
Computer Requirements:
Portable Interactive Whiteboards
Our Portable Interactive Whiteboards feature compact, easy-to-move designs that give you the freedom to take your show on the road. These advanced white boards give you the power to save what you write onto your computer, or even turn your board into an interactive touchscreen that gives you access to your entire computer desktop. Portable Interactive Whiteboards provide a powerful, convenient, and space-efficient way to take visual communication to the next level in the classroom and in the conference room.