Mobile and Reversible Glassboards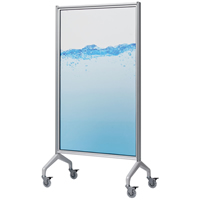 Customize this glass board with EganINK lines, letters, and graphics for a personal touch
Optional split feature offers you a bottom fabric panel for presentation variety
Tempered glass is a great safety feature of this mobile board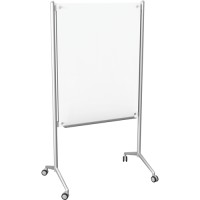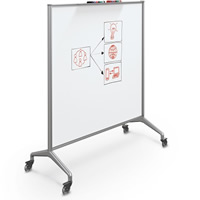 Writing Surface:
Choose porcelain magnetic or magnetic painted steel surface
Convenient and stylish tray keeps your accessories at hand yet out of the way
Durable casters provide quick and easy mobility
Magnetic surface provides extra functionality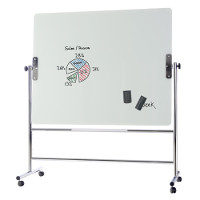 Double sided magnetic surface allows you to posts notes or charts as you work on either side.
Easy to clean and maintain - never stains or ghosts.
Suitable for extensive use.
Stunning and robust polished chrome stand and appointments.
Richly detailed with rounded corners and beveled edges.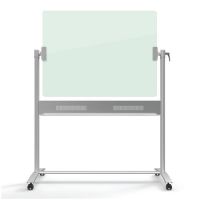 Presentation easel has triple functionality; Reversible(36"H X 48"W only) dry-erase whiteboard, magnetic bulletin board and flipch...
Frameless white glass will not stain or ghost and is tempered for safety
Easy to use flipchart holders are built-in
The 36"H x 24"W easel is height adjustable from 67" to 77" tall
Smooth rolling, star-base wheels allow quick and easy mobility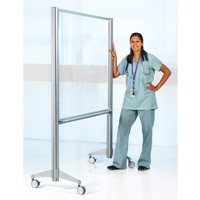 Glass-clear surfaces make display charts stand out and writing easy
Intense-Use writing surface keeps you brainstorming and writing longer
Add in the fact that the board is mobile, adding to its presentation ease, and this board's a clear winner!
Compatible with V-Series Mobiles, GlassWrite MAG is offered in height: 54?-72?, width 30?-60?
Clear Anodized Aluminum Frame or custom color application to aluminum framing, metal insert or perforated metal insert
Lower panel in tackable fabric or perforated steel
Metal insert in OVO perforated pattern
Custom Response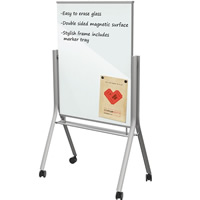 Measures 43.9"H x 30.6"W and accepts rare earth magnets
Frame and trim are made with silver powder-coated steel for long-lasting durability
Wide base design for stability
Swivel caster base with two locking dual-wheel casters for smooth, controlled movement
Includes an attached accessory marker tray for convenient board storage.
Surface accepts rare earth magnets and glass surface available in a variety of modern colors
Frame and trim are made with white powder-coated steel for superior durability. Wide base design for stability and with durable ca...
Can be set at either 60.5"H or 75.25"H for ideal viewing
Custom colors are available, call for details.Click here to find our selection of dry-erase markers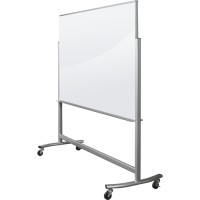 Mobile and Reversible Glassboards