Instructor's Science Lab Workstations

Receive a Free Comprehensive Quote on High-Quality Science Furniture.


Your comprehensive quote will include product information, model numbers, quantities, line item pricing as well as all Quantity Discounts, Manufacturer Rebates, and Shipping Discounts.
To receive your free comprehensive quote, simply add all items to your cart that you wish to have quoted. On the top right of your screen click "View Cart". In the cart you will click the "Request a Quote" button.
Your request will be forwarded to one of our knowledgeable and friendly Science Furniture Specialists, who will work on your request and reply back with your Free Quote. If you have any questions please do not hesitate to call us M-F 8:30AM-5PM EST 1-800-791-2946. Thank you for visiting US Markerboard for your Science Furniture needs.

View Item
Mobile Instructor Lab Workstation
$1,188.59 - $1,468.94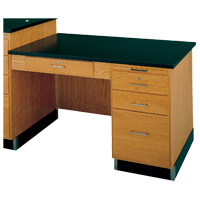 View Item
Side Desk for Teacher's Science Table Workstation
$1,116.14 - $1,193.84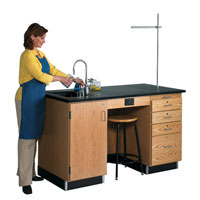 View Item
Teacher's Science Table Workstation (5 feet long)
$1,498.34 - $2,382.44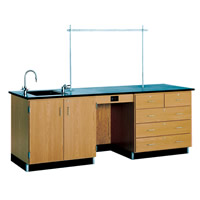 View Item
Teacher's Science Table Workstation (8 feet long)
$2,213.39 - $3,110.09
Instructor's Science Lab Workstations
These Science Table Workstations enable school teachers to demonstrate experiments and work alongside students in the classroom. You can choose from several different scratch-, heat-, and chemical-resistant countertops with flat surfaces or with sink and fixtures to help you clean and prepare for lessons and experiments. In addition, our instructor's lab units feature lockable cabinets and drawers for extensive and secure storage of lab equipment, textbooks, papers, and supplies.