Glass Whiteboards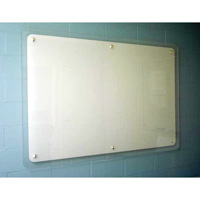 Impact-resistant acrylic surface is stylish and durable
Includes dry erase markers, eraser, and board cleaner to get you started
Intense-Use surface is ideal fo busy boardrooms with a lot of brainstorming and high traffic use
$688.99 - $2,511.99

(1)
Intense Use surface can stand up to busy brainstorm and presentation frenzies:Clear glass board is stylish, modern, and sophistica...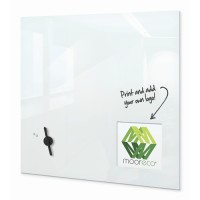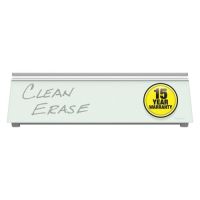 Durable glass dry-erase surface will not stain or ghost for clean erase after every use
White glass computer pad is infinitely reusable and replaces the need for scrap paper
Framelesss design is sleek and attractive
18" wide by 6" high allows it to fit neatly in between monitor and keyboard, maximizing and making use of all available desktop sp...
Glass computer pad is slanted upward for easy reading and writing of notes and reminders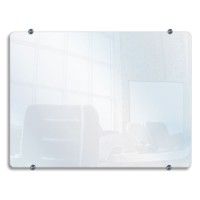 Frosted white Tempered 1/4" Thick Glass
Will not stain or ghost
Ideal for wet or dry erase markers
Stainless steel mounting pucks
Multiple configurations to choose from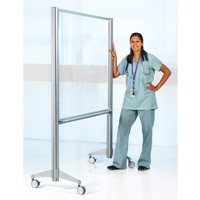 Glass-clear surfaces make display charts stand out and writing easy
Intense-Use writing surface keeps you brainstorming and writing longer
Add in the fact that the board is mobile, adding to its presentation ease, and this board's a clear winner!
Glass Whiteboards
Our Clear Glass Whiteboards come in wall-mounted and mobile free-standing designs for an elegant centerpiece in your office or conference room. They're easy to clean, easy to install, and they feature sturdy construction for long-lasting service. In addition, their clear designs ensure that they can look great in almost any indoor environment. Buy a Glass Markerboard today and add style and substance to your workspace.