Fabric & Vinyl Tackboards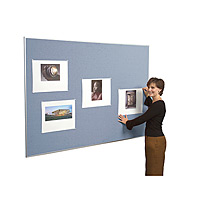 The fabric-backed vinyl surface is tough enough to resist crayon, glue, and dust and cleans easily with detergent and water
Vinyl surface resists bacteria, mold and mildew
Resilient surface heals quickly from pinholes and tackholes for your next use
Sizes smaller than 3'H x 4'W include loop hangers for quick and easy installation (larger sizes include L-clips)
Choose from 10 sizes, 22 vinyl colors and 6 trims (prices shown are with basic aluminum trim) to fit in your classroom, office, lo...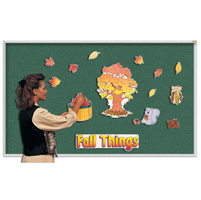 Offered in your choice of Aluminum framing or decorative Vinyl wrapped edge.
Available in 10 colors: Silver, Stone, Caramel, Ivory, Ebony, Ocean, Navy, Berry, Mint, and Spruce.
Choose from a number of sizes to fit almost any wall space.
Fabric & Vinyl Tackboards
Stick a pin in it! Or, be tack-less and stick with self-adhesive fabric boards. Wood Framed Fabric Tack Boards and Vinyl Covered Cork Boards are just the beginning of all of the colored fabric bulletin boards that could catch your eye! If you're looking to change your frame of mind from traditional wood framed corkboards, try aluminum frame fabric bulletin boards or plastic framed bulletin boards. Or, go with a frameless fabric bulletin board! Think on a surface level and choose from mesh bulletin boards, velcro bulletin boards, magnetic bulletin boards, or foam bulletin boards! Then, we get to the part about avoiding germs on the surface! Moisture-resistant boards, mildew resistant boards, chemical resistant boards, and anti-microbial bulletin boards are great for heavy use areas!rn