Baking & Cookie Sheets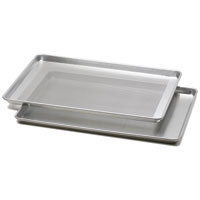 Available in two sizes to accommodate your baking needs.
Your choice of an 18 gauge solid pan or a perforated pan.
The disposable pan bags keep your creations fresh and prevent dehydration.
There is a $5.00 charge for all Royal Industries orders under $75.00 added to shipping at checkout.
Baking & Cookie Sheets
Our Baking Pans and Sheets for your home or restaurant kitchen are made from durable, high-grade aluminum to bring out the full flavor and texture in your cookies, buns, and other baked goods. They're easy to clean and come in different sizes to handle everything from a simple batch of sweets for your family to the fresh morning spread at your busy bakery. Stock up on Baking Pans and Cookie Sheets today and make quantity and quality your top priority in your kitchen.