Store & Jewelry Display Cases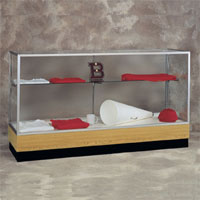 View Item
Merchandiser Series 2010 Aluminum Frame Display Case
From:
$1,453.99
Store & Jewelry Display Cases
Store Display Cases and Cash Stand Drawers work great in department stores with valuables, like the jewelry department. Jewelry Display Cases with lights allow customers to look at items for sale without touching. Optical Display Tables for glasses are a great way to store glasses and allow customers to try them on. If youíre using the
Floor Standing Display Case
or Store Display Case at a trade show, put down a
Trade Show Rug
to prevent damage to your Display Case or the floor.Store Display Cases with storage gives plenty of locked space for valuables that arenít up for review yet. If you choose a stationary Store Display Case, use
Hand Trucks
to move the Display Case easily when rearranging. Fill your store with secure Display Cases and keep valuables safe.