Outdoor Enclosed Vinyl Bulletin Boards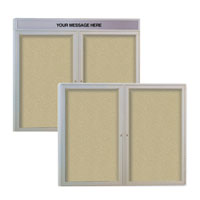 View Item
Enclosed Indoor/Outdoor Bulletin Boards
From:
$151.99

View Item
Waterfall Frame Enclosed Bulletin Board
From:
$129.99
Outdoor Enclosed Vinyl Bulletin Boards
Outdoor Bulletin Boards
with glass doors to protect displays from nature are a great opportunity for drawing crowds in. Vinyl bulletin boards for outdoor use or rubber tak boards for outdoor use provide a weather-safe background to pin displays onto. You can also draw or write messages onto the dry erase board for outdoor use! Hinged locking doors on outdoor bulletin boards keep displays safe from undesired changes.Complete your outdoor display with
outdoor bulletin boards
with lights. They're the perfect feature for nighttime displays!The
Park Series Outdoor Enclosed Bulletin Boards
have a Composite Wood Frame, giving it a natural look to fit right in with nature! They're eco-friendly to help reduce your Carbon Footprint! Check out all of our
Green Products
to give your business or classroom a Green makeover.Check out the rest of the Indoor and Outdoor
Bulletin Boards
for all of your bulletin board ideas!