Instructor's Science Lab Workstations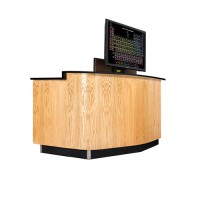 View Item
VersaCurve Instructor Desks
From:
$3,805.99

View Item
Mobile Instructor Lab Workstation
$1,562.99
Instructor's Science Lab Workstations
These Science Table Workstations enable school teachers to demonstrate experiments and work alongside students in the classroom. You can choose from several different scratch-, heat-, and chemical-resistant countertops with flat surfaces or with sink and fixtures to help you clean and prepare for lessons and experiments. In addition, our instructor's lab units feature lockable cabinets and drawers for extensive and secure storage of lab equipment, textbooks, papers, and supplies.