Historical Maps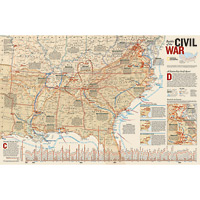 View Item
Battles of the Civil War Wall Map
From:
$8.99
Historical Maps
Historic Maps tell a tale as old as time.
Dinosaur Maps
speak of long extinct creatures that will teach students, as well as look great on bedroom walls.
Shakespeare's Britain
is a historical Map of England spanning the Bard's plays that took place in the country. The US Civil War Battles Map gives a detailed Historic Map account of a famous war on American soil.It's important to learn from the past. These Maps help teach about times that occurred long before the time your students will be sitting in your classroom. Historic Maps assist in Literature and History classes, as well as make great gifts for the historian, child, or writer in all of us.
Antique Globes
also give an air of antiquity, while remaining up-to-date with borders and information.